Phipps Conservatory of Pittsburgh is taking the deep green challenge set by the Cascadia chapter of the U.S. Green Building Council, based in Oregon, Washington and British Columbia. The conservatory, known for its great steel and glass Victorian greenhouse, will build its new Center for Sustainable Landscapes (CSL) to the standards set by Cascadia's Living Building Challenge, thought to be the most rigorous green building standard in the world.
The CSL is the centerpiece of the $20 million Phase III of a multi-year expansion project underway at Phipps to upgrade and expand its facilities, and to emphasize more green and sustainable building practices and operations. (The conservatory is currently an EPA Green Power Partner, and offers a certification program in sustainable landscaping). As per the terms of the Living Buildings Challenge, the CSL will generate or offset 100 percent of its own power, and capture and treat all of its own wastewater on site.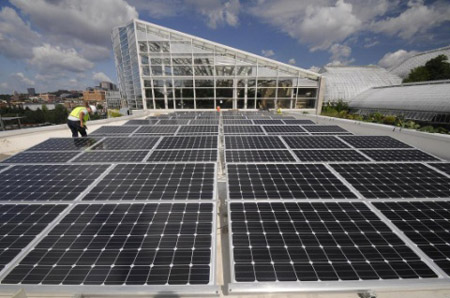 In order to meet those terms, the design focuses first on energy efficiency, with a tight building envelope, high performance wall and roof insulation and high-performance windows, as well as natural daylighting and a smart building management system. Passive solar orientation makes the most of the sun's rays for heating during the winter months, and a geothermal ground-source system handles the rest. Power is provided via a solar photovoltaic system (featuring Solarworld solar panels) and vertical axis wind turbines.
The building and its surrounding environs, which is being designed by the Design Alliance Architects of Pittsburgh, is expected to exceed standards for both LEED Platinum and Sustainable Sites Initiative certification for landscapes.