How's this for a dramatic statement of intent: "We must get Hawaii off oil … recent price spikes and continued turmoil in oil-producing regions are reminders that we have to cut our dependence on oil as quickly and completely as possible." Those are the words of Robbie Alm, executive vice president of Hawaiian Electric, which is backing up the rhetoric with some action.
The utility has sent draft request-for-proposals [PDF] to the state public utilities commission for some 200 megawatts in renewable energy projects it would like to see up and delivering clean power to the Oahu grid by the end of 2018. The projects would result in between 600 and 800 gigawatt-hours of energy annually – from 8 to 11 percent of Oahu's power consumption.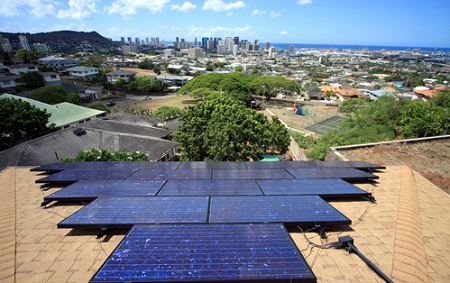 The goal is to determine a short list of projects by October 2012 so Hawaiian Electric can  evaluate the proposals and come up with a final selection of projects in 2013.
One renewable project is already well along in the pipeline, however: A  5-MW solar photovoltaic plant planned for Kalaeloa in West Oahu. About the same Hawaiian Electric was putting forth its 200-MW plan, the state approved a contract for developer SunPower [PDF] to sell energy from the plant to Hawaiian Electric.
The plant, which expected to be completed within about five months, will use the SunPower tracker system that shifts the solar panels to follow the sun during the day, increases sunlight capture by up to 25 percent over fixed-tilt systems, while significantly reducing land requirements, according to SunPower.
Become a Green Earthling Deal email subscriber by Friday, October 28th and you could win a wireless solar keyboard from Logitech! Either Mac or PC, it' your choice.