Green libraries have been springing up all over the country in recent years, from New York to Los Angeles, and even smack dab in the middle of the county in Grinnell, Iowa. This building, which earned LEED Gold status in 2009, now features an educational display called the Energy Efficiency Education Dashboard.
This 42-inch touchscreen display was designed to show patrons just how green the Drake Community Library is, featuring information on how the building was constructed as well as how it uses energy and water in real time, as compared to past usage, and compiling such information over weekly, monthly and yearly time periods. The display was designed by QA Graphics.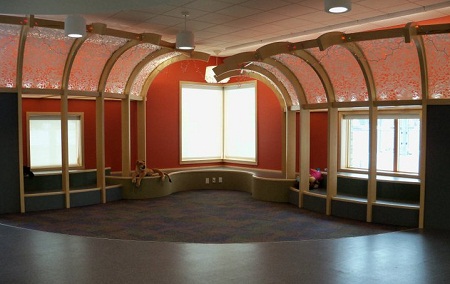 The library resided at its previous location for more than 100 years, and the move to this new building was financed largely by community contributions. Hence, library representatives wanted to make sure the public understood how the building was making good on its green promise. Lorna Caulkins, director of the Drake Community Library, noted, in a statement, "We had told our community throughout our building project that the building design would save money on energy expenditures, and this is one way of demonstrating it graphically."
The touchscreen display also explains the building's many green features, which include geothermal heating and cooling, lighting controls, use of recyclable and renewable materials, tankless water heaters, lighting sensors, low flow water features, and native landscaping, as well as the importance of the library's local sourcing policy. It also provides a checklist of points required for a building to receive LEED certification.