Construction on the massive Ivanpah Solar Electric Generating System in the Mojave Desert near the Nevada-California border is well under way. Now, according to Designboom, the Swiss-based firm Rafaa has offered up two stylish designs for the towers at the center of BrightSource Energy's "LPT" system.
The planned 4,000 acre, $2.2 billion Ivanpah plant, with a generating capacity of 392 megawatts, will use solar thermal technology. With a solar thermal plant, the power of the sun is focused by mirrors, known as heliostats, on boilers in centralized towers. Water is transformed into steam which in turns drives energy-producing turbines. At Ivanpah, the plan is for 173,500 heliostats to be arrayed around three towers.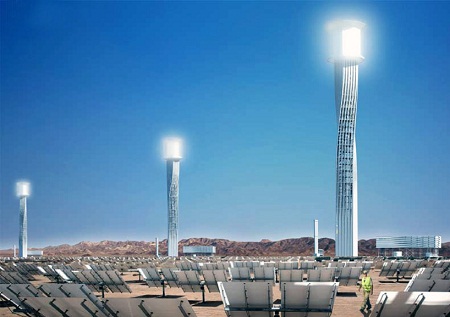 Zurich-based Rafaa, in collaboration with engineering consulting firm Schlaich, Bergermann Und Partner, has offered two designs in a competition to finalize the tower architecture – a twisted linear-based "option a" (pictured above) and the cylindrical honeycombed "option b" (below).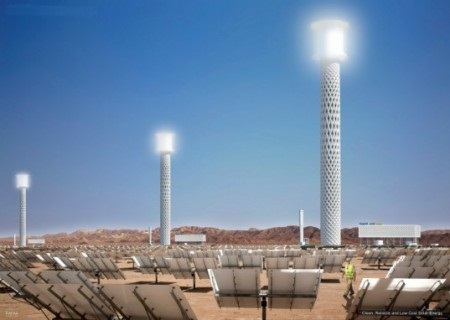 The towers will stand 450 feet. Construction of the plant is expected to be completed in 2013. When the BrightSource plant goes online it is expected to generate enough electricity to power 140,000 homes. Southern California Edison and Pacific Gas and Electric are scheduled to buy energy from the plant. Updates on the plant's construction progress are available here from BrightSource.