Vancouver, British Columbia, has established a reputation in recent years as a global leader in digital tech and media. Now, a new educational facility on the Great Northern Way Campus (GNWC) – operated jointly by the University of British Columbia, Simon Fraser University, Emily Carr University of Art + Design and the B.C. Institute of Technology – could help to cement the region's reputation by attracting digital media students from all over Canada and beyond.
The new Centre for Digital Media, slated for the 18-acre GNWC (formerly occupied by the Finning International Airport), will incorporate the latest in green design, according to the Vancouver Sun. Sustainable features include a green roof, solar panels and geothermal heating, as well as recycled materials, which will be used in much of its construction.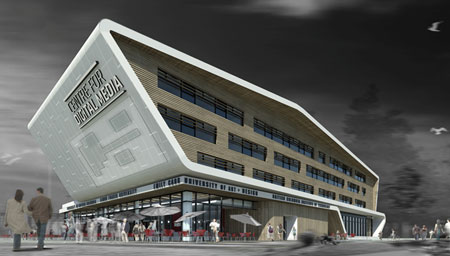 This 51,000-square-foot, mixed-use building will combine social, learning and student residential space for the Masters of Digital Media (MDM) Program offered jointly by its four educational partners. It will be nest to the existing Centre on False Creek Flats, adjacent to Great Northern Way.
"The Centre for Digital Media will help to maintain our province as a global leader in high-tech industries and give the best minds in digital design and media another reason to choose Vancouver and British Columbia," said Advanced Education Minister Naomi Yamamoto, in a statement. Canada's Ministry of Advanced Education provided $40 million for the educational initiative that established the MDM program, $13 million of which will be used to fund the building's construction.