Take that, Abu Dhabi! In the race to build the biggest, richest and most impressive skyscraper in the Middle East, Saudi Arabia may soon take the lead with Kingdom Tower. Oh, and it's got some elements of green building, as well.
Adrian Smith + Gordon Gill Architecture will be designing this mega-skyscaper, which is the brainchild of His Royal Highness Prince Alwaleed Bin Talal Bin Abdulaziz Alsaud, nephew of Saudi Arabia's King Abdullah and chairman of Kingdom Holding Company, which is a partner in Jeddah Economic Company along with Jeddah businessmen Samaual Bakhsh and Abdulrahman Hassan Sharbatly and Saudi Binladin Group (SBG). (SBG is also the contractor for Kingdom Tower.)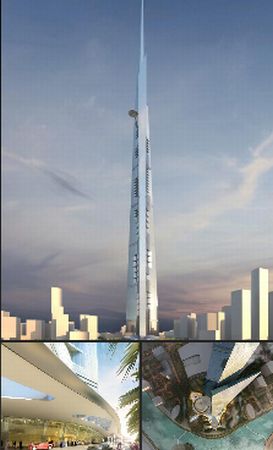 Intended to become the tallest building in the world at 1,000 meters (3,286 feet) and a total construction area of 530,000 square meters (5.7 million square feet), Kingdom Tower was conceived of as the centerpiece and first construction phase of the Kingdom City development, slated for a 5.3 million-square-meter site in north Jeddah. Construction and development costs are estimated at $1.2 billion USD.
While no such Goliath of a building is likely to be a poster child of energy efficiency, it will make use of a high-performance exterior wall system designed to minimize energy consumption by reducing thermal loads, as well as a series of notches in each of its three sides that will create pockets of shadow shielding areas of the building from the sun. (And, not incidentally, create outdoor terraces with "stunning views of Jeddah and the Red Sea.")