Beside leading the nation in solar photovoltaic capacity overall, California is also a pioneer in bringing solar power to schools and college campuses. This summer, California State University Los Angeles added to the state's total in that category as it commissioned a new PV system at its Engineering and Technology building.
The project was funded by the U.S. Department of Energy, Southern California Edison and Honda,  as well as the university's Center for Energy and Sustainability and its College of Engineering, Computer Science, and Technology. Some of the power generated by the system will be used for lab experiments and research. The system will also power the Hydrogen Super Eagle, a fuel-cell vehicle built by university students.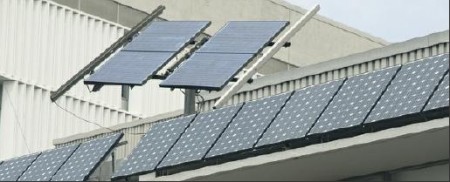 According to Professor David Blekhman, Director of the Power, Energy and Transportation program at Cal State, the system is expected to generate about 40 kilowatt-hours (kWh) of energy daily during the summer, and about 12,000 kWh of electricity annually. Real-time and archived power production data from the system can be viewed here.
University representatives say that the PV system reflects a commitment to sustainability research and education by providing students hands-on training and real-world experience in alternative energy, power and transportation. Cal State L.A. has been a leader in these fields. The school recently finished in the top 10 in a student design contest  hosted by the Hydrogen Education Foundation, and was selected to build a zero-emissions vehicle for the "EcoCar2 Plugging In to the Future" international competition. Additionally, the university recently installed two new electric-vehicle charging stations to offer an alternative fuel source, improve air quality and serve as an educational tool in clean transportation classes and research.
More information about the Power, Energy and Transportation Lab at CSULA can be found here.