What is being deemed as affordable housing Passive House style is currently under construction in Whistler, British Columbia. What is reportedly helping keep the costs down is a new panelized prefabrication system for low energy buildings and Passive Houses developed by Durfeld Constructors, the former general contractor of the Austrian Olympic Passive House.
The Whistler Passive House Duplex is designed by Marken Projects and boasts one duplex unit at 2,150 square feet, including unfinished basement, four bedrooms and two bathrooms and is designed to consume up to 90% less energy for heating, cooling and building operation than a standard house.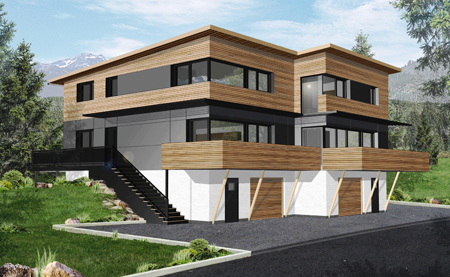 The panelized prefabrication system previously mentioned is designed so that the exterior walls, interior floors and roof are constructed as large panels at their newly set up facility with the main goal to reduce construction costs and to control the building environment. The home, besides this prefab approach, includes as features solar hot water, rainwater harvesting, cross laminated timber decking, high efficiency heat recovery system with subsoil heat exchanger and also drain water heat recovery.
Durfeld added that, as part of the Whistler Resident Housing initiative, this project also has to meet certain affordability requirements set out by the Whistler Resort municipality which has resulted in a reportedly turn key construction budget below the average Whistler building costs.
Occupancy is anticipated for late fall 2011.