Tony Sarich of Gen7 knows a thing or two about LEED certification, having helped to build a business around selling "high-performance" prefabricated green classrooms to schools. Now he's taken what he's learned and applied it to building his winery and dream home in the Lodi region of California.
The 3,000-square-foot River Vine winery and adjacent dwelling are expected to receive LEED Gold certification, and if so, will be the first building in California's Central Valley to do so. Sarich had the entire winery prefabricated in the manufacturing facility of American Modular Systems (makers of the Gen7 line) in order to contain costs, minimize waste and "preserve the integrity of the high-quality building materials."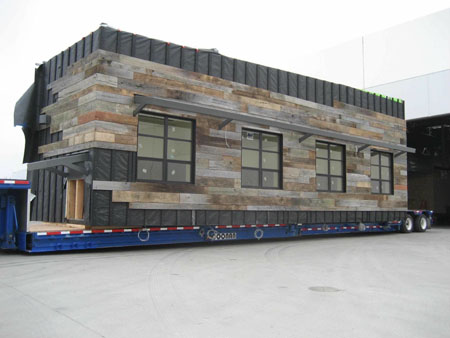 The winery will make use of energy-efficient mechanical and electrical systems combined with the green technology developed for Gen7 schools. Roof-mounted solar panels will cover the energy needs of the winery,  as well as the well and the house (to be constructed). Climate control will be provided courtesy of the winery's super-tight building envelope, insulated with recycled blue jean material, providing an R-value of 50 on the roof and walls.
The building makes use of smart lighting controls, LED lights, and natural daylight harvesting to reduce energy usage by 65%. Like Gen7 classrooms, both the winery and Sarich's home will be constructed from recycled and recyclable materials, including FSC certified wood sourced from responsibly managed forests and 150-year-old reclaimed oak barn wood.