The Empire State building has long been famous for its height and its history. Now it will bear the added distinction of reportedly being New York City's single largest commercial power purchaser of green energy, as the building's owners recently signed an agreement [PDF] with Green Mountain Energy to purchase 100% of its power from renewable sources.
This move comes hot on the heels of a massive green retrofit and upgrade of the 2.85 million square foot building privately funded by the Empire State Foundation. Now that the iconic landmark has been tricked out with energy efficient features and insulation, it will no doubt take less juice to operate–but the impact of its two year contract with Green Mountain still looks to be no small potatoes, especially in ecological terms.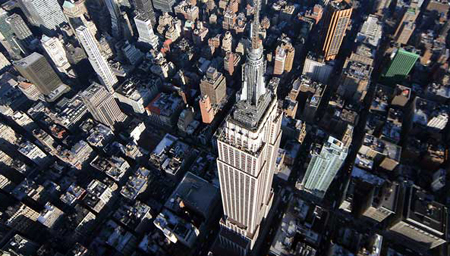 By purchasing nearly 55 million kilowatt hours of renewable energy each year, it is said, nearly 100 million pounds of carbon dioxide will be avoided annually. To put things in perspective–in New York City terms–that's reportedly equivalent to having nearly every house in New York State turning off all their lights for a week, taking approximately 40 million fewer cab rides or planting more than six times the current number of trees in Central Park.
This amount is also said to be more than double the amount of renewable power currently being purchased by any other commercial customer in the Big Apple, and enough to place the Empire State Building in the top echelons on the EPA's national Top 100% Green Power Purchaser List, which represents organizations that are buying green power to meet 100% of their U.S. organization-wide electricity use.
Renewable energy being used to supply the Empire State Building will be purchased in the form of wind power Renewable Energy Certificates (RECs) in the same quantity as the Empire State Building's electricity consumption. According to the Empire State building's owner, purchasing these RECs is a widely accepted way to address the greenhouse gas emissions of electricity consumption, the purchase of which helps to ensure that the amount of energy used by the building is added to the U.S. power grid from renewable sources.