How do you make 2,000 square feet seem larger and more spacious? By inviting the outdoors in, via indoor/oudoor spaces, as in Blu Homes sunny improved upon prefab, the Sunset Breezehouse.
Designed by Blu's architect in residence, mkDesigns, the home was created in conjunction with Sunset Magazine. Its central feature is something called a "BreezeSpace," located at the center of the house  under a unique, butterfly-shaped roof. This BreezeSpace is a glass-enclosed breezeway or porch that blurs the boundary between interior and exterior space and opens into the dining and living room. Outdoor space is further integrated into the home through a series of courtyards, terraces and decks to the front and rear of the home.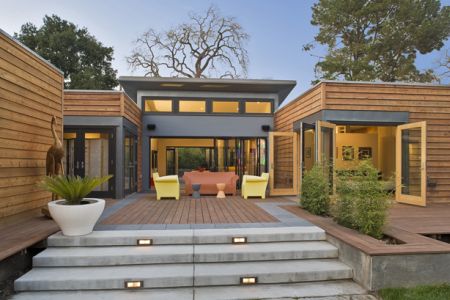 According to Jetson Green, this home is built with Blu's standard steel frame and folding technology, which means it can be shipped anywhere in the country and set up on an existing foundation in a matter of hours. (In fact, shortly after the launch of this new model, Blu reports that two have already been shipped.)
The building envelope of the Breezehouse improves on Blu's Glidehouse and Evolution models with better insulation engineered for heavy snow and high winds. As with all of of Blu's designs, the Breezehouse is said to be around 50-60% more efficient than an average home, and is constructed with no-VOC paints, Andersen or NanaWall windows and doors, Kohler water-efficient fixtures, and bamboo or FSC-certified floors.