We've certainly seen sports leagues play ball with solar power before, but a stadium design unveiled by the Philadelphia Eagles recently is promising to score a clean energy touchdown to top all others. The venerable NFL franchise says it plans to make Lincoln Financial Field the world's first major sports stadium to convert to self-generated renewable energy.
The Eagles are teaming with Orlando FL-based SolarBlue, a renewable energy and energy conservation company, to install on-site 80 20-foot spiral-shaped wind turbines on the top rim of the stadium, affix 2,500 solar panels on the stadium's facade and build a 7.6 megawatt onsite dual-fuel cogeneration plant. All told this project, which will see SolarBlue investing in excess of $30 million to build it out, reportedly will save the Eagles an estimated $60 million in energy costs over the next 20 years.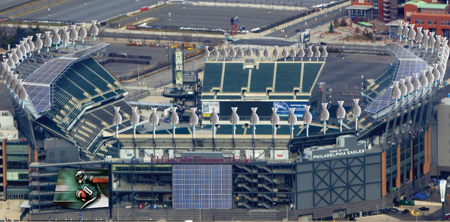 The Eagles and SolarBlue, who will maintain and operate the stadium's power system for the next 20 years at a fixed percent annual price increase in electricity, estimate that over this time period 1.039 billion kilowatt hours of electricity – more than enough to supply the stadium's power needs – will be generated. It is believed an estimated four megawatts of excess energy off-peak could be sold back to the local electric grid as well.
The energy to be generated on-site renewable sources is said to be comparable to the annual electricity usage of 26,000 homes. It is estimated as well this will eliminate CO2 emissions equivalent to 500,000 barrels of oil or 24 million gallons of gasoline consumed annually. That equates to removing the carbon emissions of 41,000 cars each year.
Looking for green gadget gift ideas for this holiday season? We have you covered with our annual Green Gadgets Holiday Gift Guide – check it out now!