We've covered the roll out of a number of different green modular home designs from Blu Homes over the last year, including the Element and the Evolution. Now the Massachusetts-based company has announced the release of the first home in their mkDesigns line, the Glidehouse. This prefabricated green home–previously offered only within limited markets on the West Coast–is now available nationwide.
The Glidehouse features non-VOC paints, FSC certified wood and bamboo flooring, and Paperstone counter tops as well as water-saving plumbing fixtures, on-demand water heaters, and a mechanical ventilation system (which is significantly more efficient than forced-air systems). The home is billed as "solar ready" and can built with geothermal, wind generator or hybrid energy systems, as well as radiant hot water flooring for colder climates.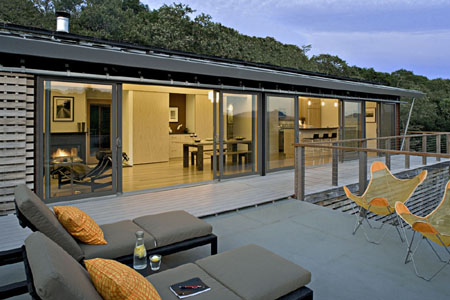 Additionally, the home design includes Blu's proprietary steel and wood hybrid framing for resilience in challenging weather conditions, energy-efficient glass "walls" for panoramic views (placed in order to maximize fresh air and natural daylighting), cedar sunshades (to minimize solar heat gain during hot summers), an open floor plan, and spacious rooms. The Glidehouse is available with two or three bedrooms and two full baths for $360,000; optional features include additional bedrooms, carports, garages and fireplaces.
image via Blu Homes
"The Glidehouse is an elegant and innovative green design, and we are delighted to offer this spectacular home," said Bill Haney, CEO of Blu Homes, Inc., in a statement. "Artfully harmonizing indoor and outdoor living, the Glidehouse truly proves that sustainability can be both beautiful and cost-effective." The design meets Energy Star standards for energy efficient homes as well as the performance standards for indoor air quality determined by the American Lung Association Health House program. It can be built to meet the standards set by local green rating programs as well.
Like what you are reading? Follow us on RSS, Twitter and Facebook to get green technology news updates throughout the day and chat with other green tech lovers.