Writing about the Vertical City design proposed by the British firm Desitecture for Caracas, Venezuela, is no easy task. On the one hand, it's a fascinating, futuristic design for high-density urban living, powered by sustainable technologies. On the other hand, it's a high-rise project entirely out of touch with local scale, complete with bars, cafes and restaurants, proposed for construction on top of a local landmark in a low-income area.
First, about this landmark: the tower that would be razed to make way for the Vertical City is known as 23 De Enero–a building that was taken over on January 23rd, 1958, when the President Jimenez was ousted following a military coup. At that time, masses of homeless and lower class citizens flooded into the tower and have lived there ever since. Now, apparently, the municipality of Caracas would like to develop this land and improve its economic value, without entirely displacing the community that has formed there. According to Desitecture, the Vertical City development would give these "stakeholders" the option of either relocating altogether (to where?) or "into the emerging micro economic community of the tower while deriving an income from their share in the land development."  While it's great that Caracas is willing to give some kickback on this development to those who've essentially been squatting 23 De Enero since 1958, we really have to wonder if that kickback's going to be enough to give low-income residents enough cash to live the high-end, jet set lifestyle suggested by the pictures of this place (featured on Designboom).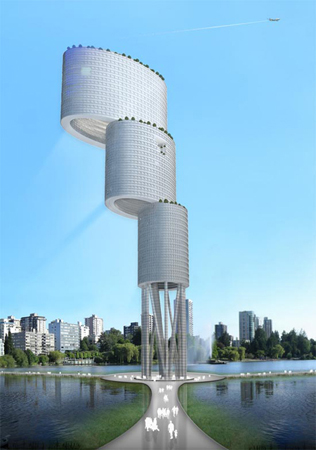 The Vertical City design is a 180-storey tower that appears to be a twisting cantilever, but is in fact a simple structure with only the top "cup" containing a cantilevered element. The main support for this ginormous building is a vertical and diagonal structural frame containing circulation and services that runs through all three cups and within the first forty five stories, supporting the "palette shaped overlapping gardens and city farms." External skin elements of the tower are made of a lightweight composite precast units that contain a hollow structure which has embedded micro turbines that transform the skin into a wind energy, generating surface, providing power to augment photovoltaic panel solar collection within the inner skin. Natural convection helps to heat and cool the building.
Our take? Vertical City is an bold, futuristic design that probably ought to be built, somewhere–but probably not 23 De Enero in Caracas.
Like what you are reading? Follow us on RSS, Twitter and Facebook to get green technology news updates throughout the day and chat with other green tech lovers.