If you like to shop at national organic food market chain Whole Foods, you probably wonder sometimes about where exactly some of its suppliers come from. Whole Foods now is taking the guessing game out of the equation, debuting an online interactive map which lets you learn more about some of the companies it works with.
This Locally Grown map, which looks to be a customized Google Maps overlay, is said to be a work in progress. Its focus, according to a Whole Foods blogger, is to show to viewers on a very local level the relationship between the grocery company and its suppliers. With this map you can zoom in to see the Whole Foods locations around the country, as well as the proximity of suppliers to these different stores. One can also search for a specific provider or zoom directly to a selected region of the country.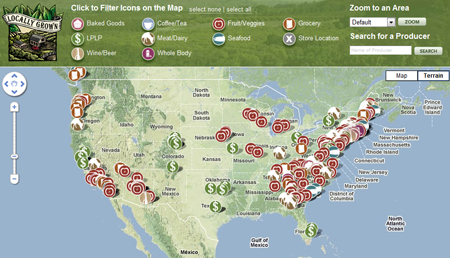 What we find particularly cool is that Whole Foods, in the case of its vendors, has supplied little tidbits of information with each icon so you can learn a little more about the business. It is a small, but significant, step in bringing the idea of education behind those who produce your food to the digital forefront.
Like what you are reading? Follow us on Twitter to get green technology news updates throughout the day!