Given $10K for home improvement, what would you do? A new survey by the Shelton Group indicates that for most Americans, the recession has put energy efficiency on the backburner.
Of the 504 Americans polled by the organization's fifth annual Energy Pulse suvey, 37% would refinish the kitchen or bathroom, while another 33% would replace carpet or refinish floors. When asked how much their bills would have to increase before they pursued more efficient products, the average amount respondents quoted was $129 per month.  According to the survey, most consumers were unaware of the fact that they were using more energy now than they did five years ago, and that appliances and electronics posed a drain on the household energy budget.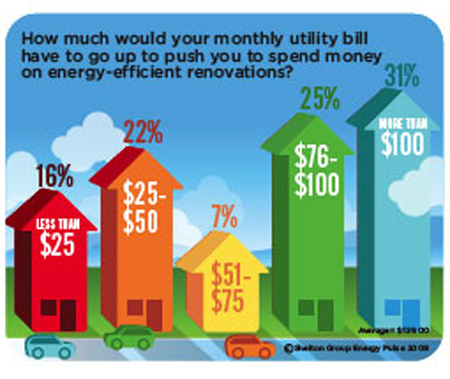 "We call this phenomenon the 'Apathy Gap,' the price people are willing to pay to do nothing," said Suzanne Shelton, president of The Shelton Group. "Here consumers are willing to waste more than $1,500 a year, or more than $4 a day, before they'll take action. For that same amount, a homeowner could install insulation or purchase one or two new ENERGY STAR appliances to start seeing immediate savings." Now in its fifth year, the Energy Pulse survey is aimed at unlocking attitudes and motivations with regards to the American consumer's mindset on energy-efficient products and services.
Energy Pulse [via press release]