In recent years, the motoring industry has introduced a series of technological breakthroughs to provide more effective and automated driving experiences for the modern traveler. Most recently, these vehicular innovations have emerged as part of a London based government objective. The UK government has recently unveiled a £1.5 million project to design and manufacture a pioneering range of driverless vehicles which will become operational in Milton Keynes.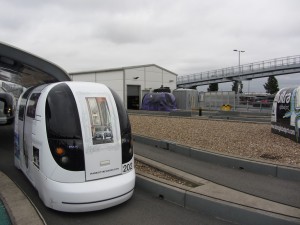 The project aims to launch a series of autonomous pods onto a series of designated pathways throughout Milton Keynes. By 2015, the government intends to construct and integrate twenty pods-each capable of accommodating two passengers- onto specially designed public pathways. These pathways would enable the pods to travel from Milton Keynes railway station into the city centre; thereby facilitating an innovative and environmentally efficient mode of transportation.
Following the trial of these twenty pods, the government subsequently plan to launch one hundred pods by 2017. These pods will run alongside pedestrians at a maximum speed of 12mph, using intricate sensors to avoid obstacles and collisions. As a result, these pods will reinforce current road safety initiatives which exist throughout London boroughs. Marketing consultants Realia Marketing have implemented a range of; "road safety marketing campaigns for London Boroughs of Brent and Lewisham, as well as delivering insightful campaign evaluation for KCC". The integration of these driverless pods will highlight these pre-existing campaigns and better safeguard the London region from possible vehicular related accidents.
Furthermore, these driverless pods will also feature a wealth of technological advantages; enabling travellers to check emails and browse the Internet whilst travelling. Collaborators for the project include engineering firm Arup, as well as Cambridge and Oxford universities. Jon Beasley, the programme director of Transport Systems Catapult , one of the project's collaborators on the project, declared to Sky News that these pods would offer pedestrians;
"the option to get to the city centre comfortably, safely, they can continue processing and doing work, reading emails, reading papers whilst they go to the city centre itself…So they don't have to concentrate in the long term in how they drive these things"
Beasley further stated that the technology used to design and manufacture the pods may eventually be extended to cars on major roads. Currently these pods are operational at Heathrow Airport ; enabling passengers to easily travel between terminals and car parks. Their ability to provide a safe and effortless mode of transportation for the general public has resulted in the government considering implementing the pods as part of an eventual national campaign to manufacture and test low carbon technologies.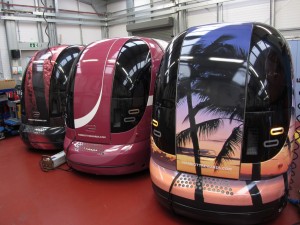 Subsequently, these driverless pods symbolise the next stage of environmentally beneficial modes of transportation, because they are constructed and maintained using environmentally efficient measures.
Moreover, the production and distribution of these vehicles also provides lucrative economical benefits for Britain, keeping the nation at the forefront of automotive design whilst securing 30,000 jobs in engine production.
Fundamentally, the long term success of these driverless cars remains to be seen. If these initial trials are effective, then similar driverless vehicles may eventually be integrated within all major towns and cities across the UK, as well as across the rest of the globe. These vehicles may provide a luxurious solution to long term environmental issues. Every day more drivers emerge on our roads, emitting harmful fossil fuel gases. If successful, these driverless pods could ultimately provide a clean, efficient solution to pollution issues, whilst simultaneously providing drivers with a stress-free, elegant mode of transportation.
Article provided in agreement with Bradley Taylor who is a guest contributor to EarthTechling.