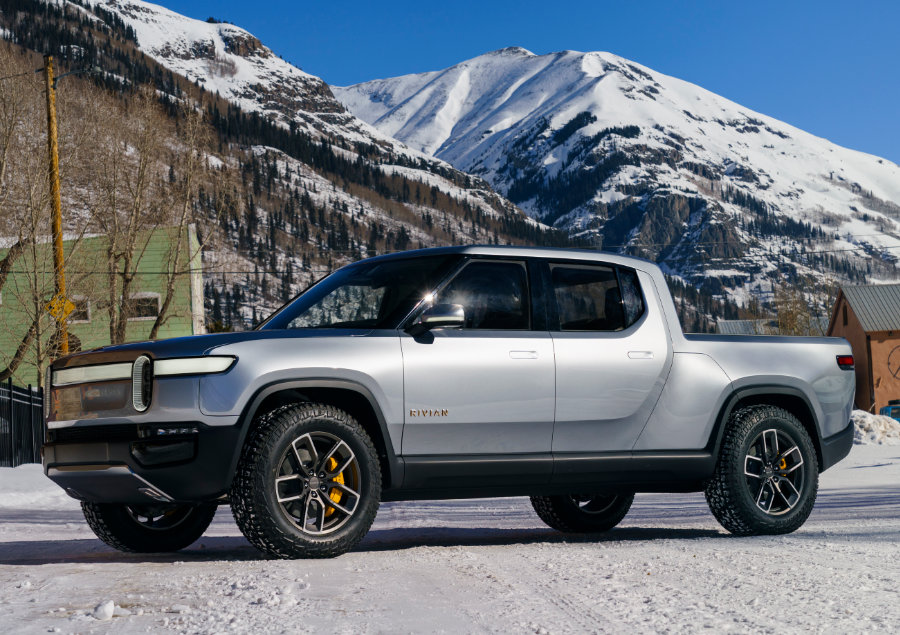 Ford is set to invest $500 million in EV start-up Rivian, pending regulatory approval. The move comes after Ford announced it will invest $11 billion in EV development over the next five years. Presumably Ford is looking to Rivian – a company at the forefront of the electric truck market – to help jumpstart this huge undertaking.
Ford seeks to use Rivian's skateboard platform
Rivian announced last week that, with the investment, Ford is looking to use Rivian's versatile 'skateboard' platform to produce its own electric vehicle, though the car giant hasn't divulged exactly which one yet. Rivian will continue to exist as an independent business, with Ford President Joe Hinrichs joining Rivian's member board.
Ford CEO Jim Hackett said, "As we continue in our transformation of Ford with new forms of intelligent vehicles and propulsion, this partnership with Rivian brings a fresh approach to both. At the same time, we believe Rivian can benefit from Ford's industrial expertise and resources."
Indeed, the partnership seems like a step forward for both companies. Ford has announced huge investments in EVs for the future, but has little expertise in EV development. Rivian, on the other hand, is on the forefront of electric pickups, but lacks the huge manufacturing capabilities of Ford.
Ford investing $11 billion in EVs, will introduce Mustang-inspired SUV in 2020
The Rivian partnership is just one step in Ford's push towards electric vehicles. Back in early 2018 at the Detroit Auto Show, the auto maker announced a plan to increase investments in EVs from $4.5 billion to $11 billion and introduce 40 hybrid and electric vehicles by 2022, of which 16 will be fully-electric.
At the announcement, Ford told reporters, "We're all in on this and we're taking our mainstream vehicles, our most iconic vehicles, and we're electrifying them. If we want to be successful with electrification, we have to do it with vehicles that are already popular."
Since that announcement, Ford has made good on that promise. In 2020, they're set to introduce a Mustang-inspired SUV that, it claims, boasts a range of 300 miles – making it almost on par with Tesla's standard-setting Model S. Ford's been tight-lipped on other details though, providing no additional details on performance or design.
Ford is also developing hybrid and electric versions of its ever-popular F-150 truck, the best-selling pickup in the US for decades. However, like the Mustang SUV above Ford has yet to release any details on performance for the electric or hybrid trucks.
Rivian to introduce its own off-road electric truck
Rivian is already well-known in the EV community, despite having no cars on the road yet. Unlike most EV start-ups that promise the moon then seem to take their sweet time as they jump the huge hurdles to EV production and deployment, Rivian came out of the gate swinging. Its first real announcement wasn't a teaser of future models or a concept car; it showcased two EVs – one truck and one SUV – that were already production-ready.
The two vehicles are built upon the company's 'skateboard' platform, an underlying frame, drivetrain, and battery system that it can slap different vehicle bodies on. Rivian plans to introduce both EVs in 2020. If it can stick to that schedule, it's set to be the first carmaker to introduce a fully-electric pickup truck.
Of course, Tesla is also developing an electric truck, but while Rivian is certainly set to take a bite out of Tesla's pickup thunder, the company's aim is slightly different, focusing in on the off-road capabilities as opposed to the luxuriousness. To show it's serious about its off-road capabilities, Rivian even partnered with rock climber (and clean energy enthusiast) Alex Honnold to promote the truck, known as the R1T.
The specs for the truck are looking pretty sweet. The R1T enjoys a range between 230 miles and 400 miles, potentially blowing away the Tesla Model S' record-holding 330 miles. On top of that, it can accelerate from 0 to 60 in 3 seconds and tow a sizeable 11,000 pounds and a 1,700 pound payload.
Beyond the performance, the truck itself is quite snazzy, with a lightbar wrapping around the grill-less front, bookended by two vertical headlights on each side. The black front and rear bumpers, decent ground clearance, and prominent skid plate serve to highlight that this is, in fact, an off-road vehicle.
Prices for the truck start at $69,000, putting it squarely in the luxury EV category that Tesla controls, so despite the off-road capabilities, it's still a high-end vehicle.
The race for the electric truck is on
Rivian of course isn't the only automaker dashing to put out an electric pickup truck, though it's certainly at the front of the pack. Rivian's vehicles are production-ready and they've already secured a production site. In 2017, it purchased an ex-Mitsubishi manufacturing location in Illinois.
As mentioned, Ford is working on both hybrid and electric versions of the F-150. And since the F-150 is so beloved in the US, Ford's offering – with its well-loved workhorse aesthetics and capabilities – could end up becoming the gold standard in electrified pickups.
Of course, Tesla and Elon Musk have tirelessly chatted up their electric pickup truck for years now, but say it's taken a backseat as they ramp up production of the Model 3 and prepare the Model Y, their crossover SUV, for a proposed 2020 production. However, Tesla is certainly aiming at a different market than Ford or Rivian, with Musk himself describing the truck as 'cyberpunk Blade Runner design' – likely something F-150 drivers would scoff at.
The styling of the Rivian R1T sits right between the F-150 and the Tesla Truck. It's futuristic, yet subtle. You know you're looking at something new and exciting, but first and foremost, it's still a work-and-play, mud-and-dirt truck, even at $69,000.
In the end, there's likely room in the market for all sort of electric trucks, especially as the EV market grows. Expensive and cheap, artsy and basic, someone will want it. Rivian, Ford, and Tesla plan to be there to meet those needs, whatever they may be.
Image Source: Courtesy Rivian