Tesla Motors, continuing its rapid Supercharger network expansion across Europe, announced today it is opening new locations connecting the Netherlands, Germany, Switzerland and Austria. These new routes reportedly will allow Model S drivers to enjoy "100 percent electric trips on the German Autobahn and to destinations in the Alps and elsewhere."
The latest Superchargers, noted Tesla, appear in Germany's Wilnsdorf, Bad Rappenau, Aichstetten and Jettingen) regions; in Switzerland in Lully; Austria (St. Anton) and the Netherlands (Zevenaar and Oosterhout).
With these new locations, in Germany, Superchargers connect Cologne, Frankfurt, Stuttgart and Munich. They also connect the German network to Amsterdam,Zurich, and Innsbruck. In the Netherlands, energized routes connect Amsterdam to Cologne andBrussels, and in Switzerland the stations connect Zurich and Geneva.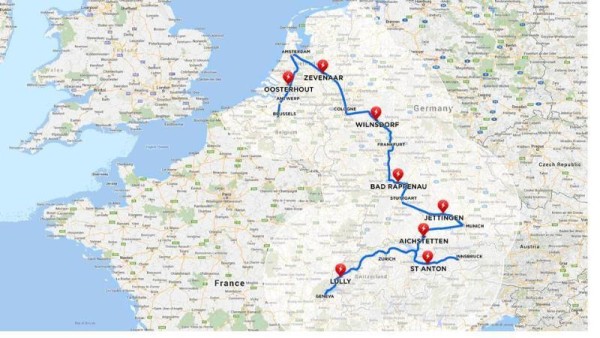 Tesla has been busy with Superchargers around the world since the first six fired up in California in September 2012, with the first network of European Supercharger stations opening in Norway less than a year later. As of today, 81 Supercharger locations are energized worldwide, with 14 locations in Europe. More than 11 million kilometers have been charged by Tesla Superchargers and nearly 1.13 million liters of gas have reportedly been offset.
The Supercharger, as developed by Tesla, provides up to 120 kW of DC power directly to a Model S's battery using special cables that bypass the onboard charging equipment. These chargers replenish half a charge in about 20 minutes, and are located generally along well-traveled roads that are near amenities like roadside restaurants, cafes, and shopping centers.