A trial run of a BYD electric bus on the busy streets of New York City has concluded, and the results show it performed excellent during its evaluation. While it's not immediately clear if this will mean one can expect to see electric mass transit replacing the aging buses belonging to the local Metropolitan Transit Authority (MTA), it does offer at least hopefully a glimpse of what's being considered.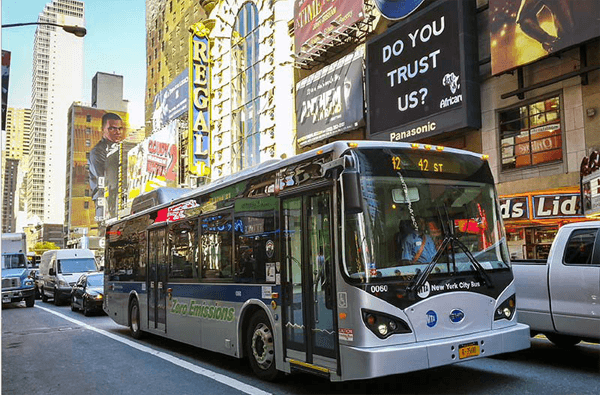 As we reported back in September, BYD and MTA carried out the electric bus test on different routes throughout Manhattan, including M20, M42, M104, M98, M60 and Bx27. The total distance covered during the trial was 1,481 miles, with the bus reportedly performing excellent
with an average battery consumption of 1.4 miles per % SOC, translating to over 140 miles per full charge in heavy traffic. The average speed of electric bus was ~4 miles per hour under Manhattan's heavy traffic. After two months of running, the electric bus's average battery duration was 0.3 hours per % SOC, translating to 30 hours of operation per full charge, as opposed to other competitors that require en route recharging every 2-3 hours during peak-rate times.
"The general purpose of the program was to evaluate how an electric bus could perform in New York City's heavy traffic, whether the electric bus can meet the twin challenges of operating in the stop-and-go traffic of Manhattan while maintaining high levels of passenger comfort and operational performance," said MTA's spokesman Kevin Ortiz in a statement.
Besides in New York City, other key American trials of the BYD offering have included a $12.1 million contract last April with California's Long Beach Transit Authority to produce 10 zero-emissions, all-electric buses. Then in June, the Los Angeles County Metropolitan Transportation Authority (LA Metro) announced a contract with BYD for the manufacture and delivery of up to 25 of the same battery-electric buses. The contract is part of that county's $30-million clean air bus technology pilot project.