One yearly right of passage for many vehicles is how they do in the fuel efficiency rankings in the Environmental Protection Agency's annual Fuel Economy Guide. For the 2014 edition, the top rated vehicle is electric, in the form of the Chevrolet Spark EV.
GM, in a recent blog post, pointed out the EPA rated the 2014 Spark EV with an estimated driving range of 82 miles between charges and a fuel economy equivalent to 119 MPGe. Put another way, the small Chevy electric car is said to be capable of saving drivers over $9,000 in fuel costs over five years compared to the average new vehicle.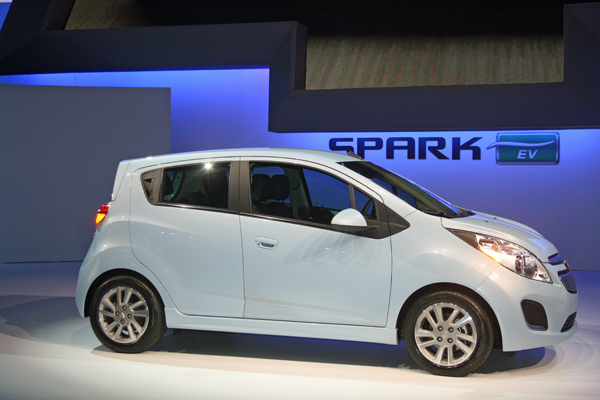 The Spark EV sits atop an impressive list of plug-in hybrid and electric vehicles spread across a range of different categories. Other top vehicles for 2014, as noted by the EPA, include the smart fortwo electric drive, Fiat 500e, Ford Focus Electric, Toyota Prius Plug-in Hybrid, Honda Fit EV, Toyota Prius v, Toyota RAV4 EV and Nissan Pathfinder Hybrid.
As for GM's little electric sub-compact, it is currently sold in California and Oregon, and the first in the U.S. to make use of a special fast-charge connector that is combined DC and AC charging. DC fast charging, according to the automaker, charges 80 percent of the car's battery in just 20 minutes, compared to AC 120v charging which can be done from a standard wall outlet in around 17 hours for a full charge.
"If this year's list of the most fuel-efficient vehicles on the market tells us anything," said GM on its blog, "it's that EVs are continuing to grow in popularity. And as more and more hit the market, choices for potential buyers will only increase, which means good things for the wallet and the environment."