A group of Croatian automotive designers who have worked with the likes of Lamborghini, McLaren, Chrysler and Alfa Romeo on future concept vehicles are now turning their skills towards various kinds of electric cars. Their first idea, which is up for crowdfunding support, is geared towards those in wheelchairs who want a simple in, out process in the body of an electric vehicle.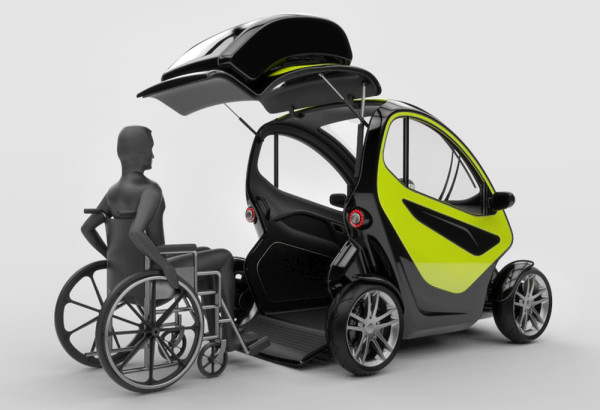 Absolute Design is seeking $150,000 to help fund development of the Equal, described as
a functional and cool looking small electric city car specially designed around needs of people in wheelchairs that will help ease their lives in many ways, especially in the way of independent mobility.
Aiming for a mostly younger demographic, the vehicle has a unique entry system in which the rear hatch rises to reveal a short ramp one rolls up to enter the interior. Once inside and the hatch closed, the driving system comes into view, again with the "disabled person in mind." It consists of "an adjustable steering wheel with a spinner knob for easier one-hand steering and of the Autoadapt Carospeed Menox, an intuitive hand control device that is used to accelerate or brake which has all the functions integrated in one place. Sides of the interior are designed carefully and with style in mind; with rails and handles that the person uses to enter and exit the car. "
At this point there are no specifications on driving range or top speed, and no final price has been set either. There is indication early adopters of the Equal (i.e. those who offer the highest financial levels of crowdfunding support) might take delivery of models as early as April of next year.