If your holiday plans involve the San Diego, California airport during this Thanksgiving travel week, and you are making use of an electric car, a free solar charging option exists there temporarily you may want to check out. The EV ARC, created by Envision Solar, is in place and offering clean energy charging sessions through the end of the month.
Envision first debuted the EV ARC back in August, at the time calling it the "world's first fully autonomous, fully mobile, full renewable electric vehicle charging station." The pilot at the San Diego airport seems to be one of the first tests of it, and it seems to be getting some positive reception, as what was supposed to be just a two week trial is now extended through some of the busiest travel days of the year.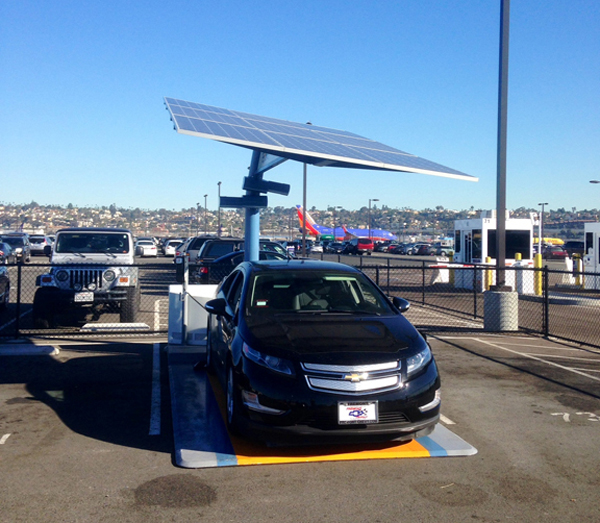 The EV ARC, according to Envision, fits inside a standard parking space and generates approximately 16 kW hrs per day which is stored in the 22 kWh on-board battery storage. To make sure it gets maximum sun exposure during the day and thus more solar energy potential, it is equipped with technology which tracks the sun's movement. This enables the solar array to follow along, generating reportedly up to 25 percent more power than a regular fixed solar installation.
At the San Diego installation it was placed at the airport's cell phone lot, so those waiting to pick up a loved one can get a little green energy top off for their electric car. As a one hour time limit is placed on those in this lot, so too is this the limit to the amount of time one can make use of the solar charger.
"Our goal was to provide a transportable and easy to install, completely green energy charging system without any negative impact to the cell phone lot at the airport," said said Desmond Wheatley, President and CEO of Envision Solar, in a statement. "We are grateful to the San Diego International Airport for allowing us to showcase that we have clearly delivered on this goal – within minutes of delivery, we had an electric vehicle plugged in and charging."