Honda, around the same time it unveiled the rather useless UNI-CUB β personal mobility device, also brought into the light a new micro-sized short-distance EV commuter offering. Dubbed the MC-β, it will be entered into field tests in Japan pretty much immediately.
The MC-β, according to Honda, is designed for short urban commutes and related types of non-long distance driving. It gets by at around 43 miles per hour and has a maximum driving range of around 49 miles. It it driven by an electric motor that has an output of around 6 kW that's powered by a lithium ion battery. This battery, making use of a higher end EV charging system, can be refueled in under three hours.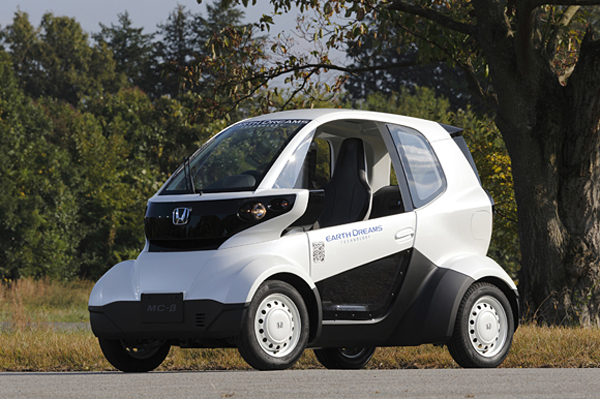 Providing cabin space that reasonably fits two adults, this micro-sized electric car also sports what's dubbed "utility space" throughout its body courtesy of an "offset seat layout." It also reportedly features nimble driving performance, offering "a comfortable drive in a wide range of road conditions."
The body of the vehicle, which sports a plastic outer panel, is lightweight but rigid, courtesy of the application of motorcycle technology.
Plans call for the MC-β to be put into separate field trials starting this month
jointly conducted with Kumamoto Prefecture, Saitama City, and Miyakojima City in Japan. In these field tests, Honda and each partner will explore desirable usage patterns and needs for micro-sized mobility products as a part of a social system that will help promote city planning and address issues related to transportation of people in each community.
Honda made no mention if this electric car would ever actual become a production model, or what it might cost if it were to be made available in showrooms.