One of the early research aircraft in the race to develop an electric airplane was the e-Genius. It first surfaced back in mid-2011 when it completed a brief test flight in Germany. Those behind it, namely the University of Stuttgart, have continued to tinker with it since that time, resulting in the continuing development of technology which allows one to stay in the air longer on electric battery power only.
In one of its latest achievements, the two-seater e-Genius early last month flew a total distance of 592 km (367.8 miles), with one stop along the way to recharge. The first leg of its journey – some 393 km (244.1 miles) – was reportedly the longest cross country flight recorded to date in an electric plane. That wasn't the end of the record setting yet though.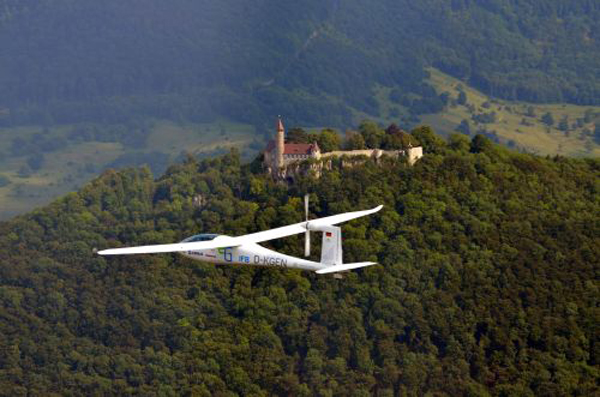 Later on in September, on the first competition day of what's known as the Green Speed Cup, the e-Genius set yet another milestone by "covering a triangle of 404.9 km (251.5 miles) in 2 hours 40 minutes and landing with a 30-minutes reserve." This kind of record setting helped them to win the competition, easily besting other entries in an event which measures which aircraft flew with the best ratio of fuel-consumption per distance and speed.
"We are able to show with the e-Genius that the electrical drive in the aircraft works reliably," said Stuttgart professor Rudolf Voit-Nitschmann in a statement, "with minimum noise and with excellent energy efficiency. This will be significant for future aircraft, e.g. in feeder traffic that is mainly serviced by turboprop aircraft."
The current iteration of this electric aircraft "has a wingspan of 16.85 m, a take-off performance of 65 kW and approx. 900 kg take-off mass. The rechargeable power packs are able to store 56 kWh electrical energy, thereby contributing 300 kg to the take-off mass." When completing the record distance it was piloted at an average speed of 160 km/h (99.4 MPH), and thereby required an energy equivalent of converted 1 litre for 100 km/h.