The streets of New York City could soon be a little more pollution free courtesy of a new electric bus pilot program the mass transit agency there has just begun. The Metropolitan Transportation Authority (MTA), currently in possession of one of the largest green fleets in the world, is in a two month trial with Chinese automotive company BYD to evaluate how one of the latter's electric buses can perform in this city's famous heavy traffic.
BYD should be a name familiar to those watching the evolution of electric buses as zero emissions replacements for aging, fume belching options in use in cities worldwide. The company's offering, with a slated operating range of around 150 miles, "features a new battery technology of iron phosphate which promises to be more rugged," according MTA. These buses are currently in various phases of testing or actual deployment in many major markets already, one of the latest of which was Hong Kong.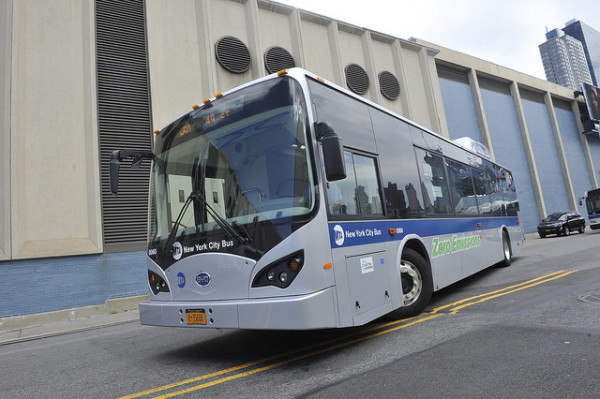 During the evaluation, MTA officials will be watching to see if the electric bus
can meet the twin challenges of operating in the stop and go traffic of Manhattan while maintaining high levels of passenger comfort and operational performance.
Like other electric vehicles, it will take a little bit of time to recharge the batteries of this bus, with MTA noting one can expect downtime of at least four hours. This may not work well ultimately for all routes across the entire service area covered by this agency, but it at least believes reasonable usage could occur for certain Manhattan lines.
"This test continues the MTA's commitment to examine new, cleaner and more efficient bus propulsion technologies that include Hybrids, Compressed Natural Gas (CNG), Clean Diesel and now potentially all electric battery drive," said Darryl Irick, President of MTA Bus and SVP, MTA NYC Transit's Department of Buses, in a statement.
Whether or not MTA can make a BYD electric bus cost effective remains to be seen, with the New York Daily News reporting one of these models alone runs near $800,000. This is compared to $450,000 for a diesel operated one.