The world of the self driving car slowly continues to become a reality. We've seen signs of this development for some time, mostly through the use of sustainable mobility designs, ranging from GM's EN-V to the well known Google self-driving Prius fleet. More recently this technology was also being evaluated in Singapore and Oxford. Now Nissan is tinkering with it as well, recently saying it believes its "Autonomous Drive" offering could be commercially-viable and available in multiple vehicles by the year 2020.
Nissan has been testing its popular all-electric Leaf with the autonomous technology, which currently consists of a mix of laser scanners, Around View Monitor cameras, as well as advanced artificial intelligence and actuators. It is an extension of what's called Safety Shield, "which monitors a 360-degree view around a vehicle for risks, offers warnings to the driver and takes action if necessary."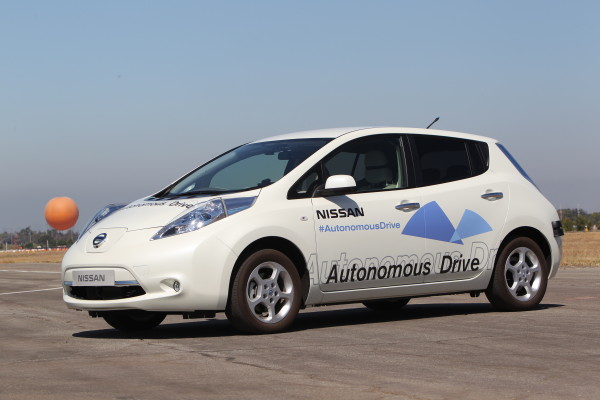 It is a belief by Nissan the current level of robotic driving available through the Leaf would allow the car to "drive autonomously on a highway – sticking to or changing lanes and avoiding collisions – without a map. It can also be integrated with a standard in-car navigation system so the vehicle knows which turns to take to reach its destination."
A program under way in Japan to further test out what's possible with autonomous driving consists of building "a dedicated autonomous driving proving ground" that would feature real townscapes instead of mock ups. This would be used to "push vehicle testing beyond the limits possible on public roads to ensure the technology is safe."
Nissan hopes to be able to put this technology into its fleet within two vehicle generations at "realistic prices for consumers." What that means in actual dollars remains yet to be seen.