Another entry in the upcoming World Solar Challenge, which begins October 6 of this year, heralds from the University of Toronto in Canada. Called B-7, it was recently publicly unveiled for the first time by a team who's stated goal for the Challenge is a top 10 finish.
The Canadian team, known as Blue Sky Solar Racing, spent more than 18 months in preparation for the Challenge, which covers over 1864 miles across the harsh Australian outback. At the last race in 2011, the university said, its team placed 24 of 37 teams with their vehicle Azure, so they have some experience already on what to expect come race time.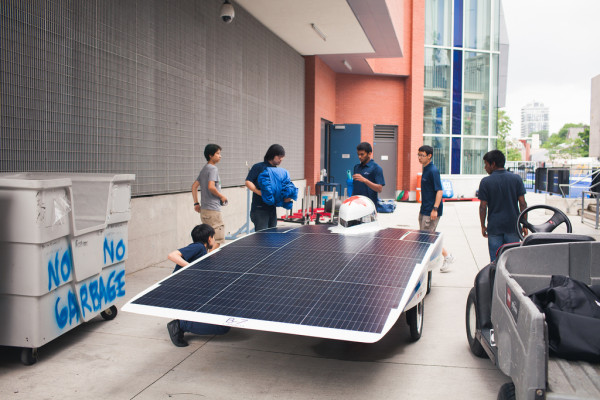 Due to regulation changes in the 2013 Solar Challenge, B-7 is the university's first single-seater, four-wheeled solar car with an upright driver-seating position. Some of these same changes also impacted the design thinking behind the University of Michigan entry named Generation.
Built and driven by students, this solar car is said to feature "the latest advancements in photovoltaic technologies, a brand new aerodynamic design and improved vehicle dynamics systems, weighing about 20 per cent less than its predecessor." It is one of about 50 teams from around the world that are expected to participate in the race.
"I've never been in the race before, and I don't know what it will feel like," said Zhe Gong of Electrical Engineering, Blue Sky's electrical team lead, in a statement. "Right now it feels pretty good."