As the date of the upcoming World Solar Challenge draws near, another college team has unveiled its entry in this unique 2,000 mile trek across the Australian outback. This time around the eyes of the solar racing world are focused upon Stanford University and its new Luminos solar car.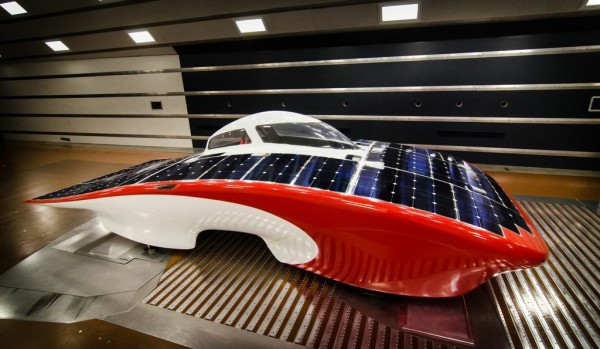 The university said that this new student built offering will compete amongst 47 teams from the United States, Japan, the Netherlands, Chile, Saudi Arabia and more than 21 other countries. For this particular race, likely in part due to shifting regulations, their vehicle has a newer look and feel to it compared to previous build outs. For the 2013 cycle, Stanford
switched from a three-wheel vehicle design to a four-wheel vehicle for improved vehicle handling and driver safety. The team has also developed custom 97% efficient solar car electric motors – a significant improvement over the industry-standard 93% – and a unique solar panel encapsulation process for increased power. Weighing in at just 375 pounds, Luminos generates less than half the aerodynamic drag of a cyclist and can cruise continuously at highway speeds on solar power alone.
Like other universities such as Cambridge, Delft University of Technology, Eindhoven University of Technology, University of Michigan and University of Toronto, the Stanford entry in many ways took over the lives of those creating it. This solar vehicle "is the product of thousands of student volunteer hours of design, construction and testing. Years of technical progress and accumulated expertise at Stanford make possible the lengthy, complicated process of designing a lightweight, ultra-efficient solar car."
The program behind Luminos gave students a chance to advance their own knowledge of skills useful in the world. These included "the opportunity to learn about advanced manufacturing techniques, use cutting-edge materials and attempt the daunting challenge of revolutionizing vehicle design toward a greater environmental conscience."
Stanford's solar car project, said the school, received $1.4 million in parts and resources from various donors, including Stanford University, Volkswagen, SunPower, Linear Technology, STMicroelectronics and 3M. If you happen to be in the area of Volkswagen Automotive Innovation Lab in Palo Alto, Calif. on July 12, you can check out the vehicle first hand.