The development and testing of small scale electric vehicles for use in varied settings seems to be in full swing in Japan at the moment, courtesy of automakers Honda and Nissan. Both are engaged in projects which reflect how electric cars can made use of in situations where larger vehicles might not be as practical or cost effective.
Honda, working with the City of Saitama in Saitama Prefecture, plans to kick off this fall field testing of of the Micro Commuter Prototype β, its micro-sized EV model that was last seen by us this past November. Plans, said the auto company, call for studying
usage patterns and needs of micro-sized mobility products as part of a social system, to solve the various transportation-related issues, especially in urban areas. The testing project will particularly study the potential of a micro-sized EV in various uses including assisting the short-distance daily transportation of senior citizens and car-sharing for commuting and commercial purposes. In addition, the value of a micro-sized EV for child-raising families will also be studied.
What's being observed through this trial falls in line with a related low carbon study project, known as E-KIZUNA, which includes demonstration testing of a Honda Smart Home System (HSHS). Those involved will consider the value of a micro-sized EV as a household battery.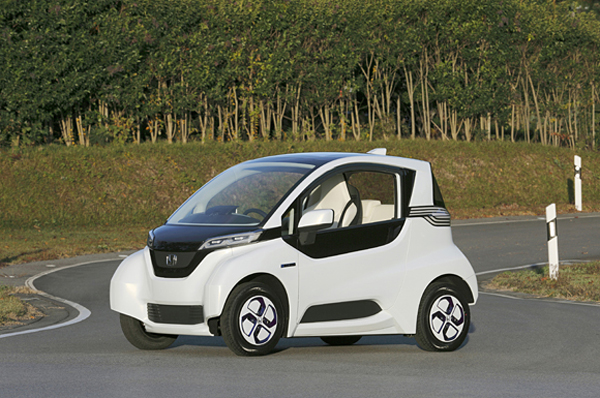 Nissan, meanwhile, is not only hooked up to the city of Saitama-run E-KIZUNA project like Honda, but is busy as well over in Teshima, Tonosho-cho, Shozu-gun, Kagawa prefecture with its New Mobility Concept as the focus of Japan's first ultra-compact mobility rental car service. This micro EV, which has been floating around since late 2010, is part of a "pilot project for ultra-compact mobility to be conducted on the island."
Six of these electric vehicles, according to Nissan, will be "offered as rental cars to visitors for their transportation and to provide an opportunity to experience exciting transportation with ultra-compact mobility."  They are of a two-seater design, much like Honda's Micro Commuter Prototype β, and are a tool in Nissan's push to "promote the creation of new mobility platforms under the Ultra-compact Mobility Certification System by the Ministry of Land, Infrastructure, Transport and Tourism."