If you built it they will come. 'It' being an infrastructure that will support long-range travel by electric car, and 'they' being the people willing to give up their gas guzzlers for a pollution-free EV. A main reason adoption of plug-in cars has been so slow in the U.S. is that people are afraid of going on a road trip only to find themselves with a low battery and no charging station in sight.
Now, two companies have announced a merger that will create a massive community of plug-in drivers and illuminate the growing network of stations all over the world. Xatori, maker of the most downloaded EV app PlugShare (and GreenCharge, the EV charge monitor) has joined forces with Recargo, a software company that provides social driving tools that support the adoption and growth of plug-in mobility.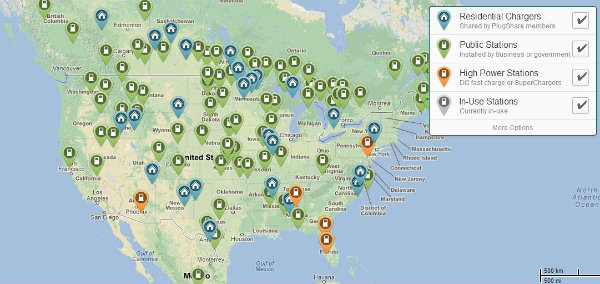 Both Recargo and Xatori have seen tremendous growth in 2013, doubling membership across their EV charging community properties including their charging locator apps, the Recargo Station Finder, and PlugShare.
The company created by the merger will bring these apps together into a single, comprehensive directory of over 20,000 electric vehicle charging stations under the PlugShare brand, with more than 30,000 station reviews and 14,000 photos to assist in last mile navigation.
Brian Kariger will remain as CEO of the company, while Forrest North, CEO of Xatori, Inc., will become COO. All current Recargo and Xatori staff are staying on.
"This merger gives us more opportunities to work with larger companies, utilities, automakers, and fleets," said North. "Best of all, our users will benefit from our combined talents and unified product. The strength and passion of our combined communities will really help accelerate the plug-in revolution."