Nissan, besides unveiling its Friend-Me concept hybrid in Shanghai recently, is also working on some electric car ideas for the Chinese market through its regional partnership with Dongfeng Motor Group. Two new fruits recently born of this effort include its concept Viwa compact electric car and its Leaf like e30 EV, the latter of which was first showcased last year.
Details were very scant on the Viwa, so there really unfortunately isn't much to say on technical information on this vehicle. The little we can tell you of it at this point from Nissan is that its distance per charge should "not be a concern for consumers." Oh, and it is zero emissions.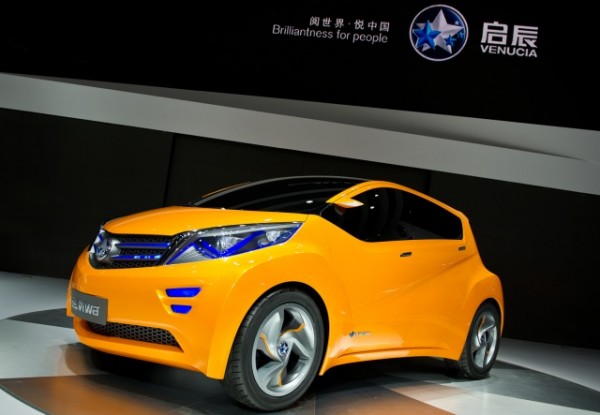 Digest that extreme lack of information how you will, but Nissan-Dongfeng is looking to get in on a market still largely untapped by electric car peddlers. A plan by the Chinese government to make popular electric vehicles is still in its infancy stage, but is said to be an aggressive push to get EVs on the road to help cut down carbon emissions, of which it has long been documented that China is a global leader in.
EV pilot programs, according to Nissan, are said to be happening in 25 cities around the nation, and that the ambitious agenda being promoted adds up to 500,000 electric cars by 2015 and 5 million by 2020. How China will get to these numbers in such a short period remains to be seen, even with strong government support for subsidies to buy vehicles and build out charging infrastructure. A recent report from the Electric Vehicles Initiative found this most populous nation, as of the end of last year, had only 11,573 EVs in the hands of consumers.
Under the Venuica brand, besides the Viwa, Nissan-Dongfeng also have the e30 EV, which is set to kick off in a pilot program in Guangzhou and Dalian this year as public transportation.