Mitsubishi debuted two new vehicles at this year's New York International Auto Show. The first, the Mitsubishi Mirage hatchback, marks the return of the venerable nameplate since it was replaced by the 2002 Lancer. It is scheduled to go on sales sometime in the third or fourth quarter this year.
The other vehicle of note is the Mitsubishi Outlander plug-in hybrid electric vehicle (PHEV). Unlike other hybrids crossover SUVs (e.g., Toyota Highlander Hybrid, Nissan Pathfinder Hybrid), which utilize a conventional gas engine and electric motor combo, the Outlander PHEV possesses two electric motors in addition to the 2.0-liter four-cylinder engine. This powertrain design allows the crossover to mosey on down the yellow-brick road in three distinct fashions: EV drive (i.e., strictly by battery power), series hybrid (i.e., engine recharges the batteries ala Chevrolet Volt), and parallel hybrid (i.e., engine and motor alternate or work together depending on drive continues ala Toyota Prius). Drivers can alter the Outlander PHEV's drive modes to improve fuel economy (ECO mode), stay in EV mode (Battery Save), or and even recharge the battery while idling at say, the fast food drive-thru (Battery Charge mode).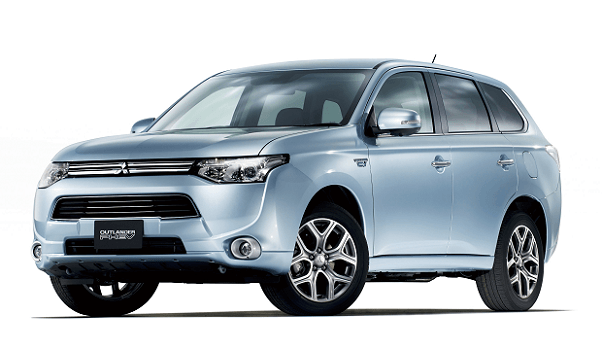 Those batteries are the cause of some recent drama for the automaker. The Mitsubishi Outlander PHEV is already on sale overseas in Japan. Before its debut here in the states, reports surfaced that the batteries of one crossover overheated and damaged its battery pack. That particular Outlander had just been recharged and left in the dealership lot. Mitsubishi is investigating the incident.
The automaker is still trickling out spec info on the Outlander PHEV. While transmission hasn't been officially announced, the crossover most likely uses the same Continuously Variable Transmission found in the standard, gas-powered Outlander (ES and SE trims). The crossover has travel up to 30 miles on strict electric power and up to 75 mph before the gas engine kicks in. Net power output of the PHEV's powertrain is guesstimated to be 117 horsepower and 137 lb.-ft. of torque. Fuel economy figures for the Outlander PHEV, from either the automaker or the EPA, have not been released at the time of this post. According to the automaker, it takes around four hours to recharge the batteries using a Level II outlet.
The Mitsubishi Outlander PHEV is scheduled to go on sale in the U.S. next year as either a 2014 or 2015 model.