Haven't heard of Detroit Electric? Or you think it's a power company? Such confusion is natural: It pulled the plug on its last electric car before 1940. The company has now returned to life, and joins the Detroit Three – General Motors, Ford and Chrysler – as a homegrown U.S. car shop.
Numerous EV companies and their cars used to spark across American roads, and Detroit Electric lead the pack in both production and sales. At one point, it manufactured 13,000 EVs, a massive number at the time, and included major figures of the time as Thomas Edison and John D. Rockefeller, Jr., among its customers. Clara Ford, wife of Henry Ford (yes, that Henry Ford) drove a Detroit Electric. In 2008, Albert Lam turned back on the brand. Lam, formerly CEO of Lotus Engineering Group and Executive Director of The Lotus Group International, aims to take on today's EV manufacturers like Nissan, Tesla, and even "neighbor" Ford, in the burgeoning new segment. Says Lam, "I am very fortunate to be working with a group of very talented engineers to create something really special. The sports car will allow us to demonstrate to the world our ability to build an exciting and innovative product. This DNA will be translated across to our future sedans; all our cars will be fun to drive and deliver exceptional performance within their class."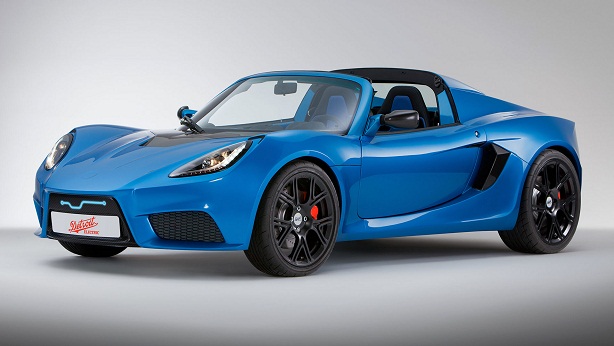 The oddly named SP:01 is Detroit Electric's first major product. (SP:01 was its working code name within the company.) Based on a Lotus Elise chassis, the two-seater roadster is powered by a 150 kW (201 horsepower) electric motor mated to what is described as a "military-grade" level battery. Torque, or low-end acceleration, is nearly 166 lb.-ft., and the 2,400 pound sports car can zip from zero to 60 mph in less than four seconds. The company guesstimates the SP:01 has a range of 180 miles per charge. A unique feature of the car is a smartphone which can open the car's doors, control the climate system, etc.
Starting price of the SP: 01 is a jaw-dropping $135,000. Detroit Electric plans to sell 999 of the EVs, with deliveries to begin in August. (Note the company is still scouting for a production facility.) Monies from sales of the SP:01 are to be used in the development of another sports car and a more reasonably priced $50,000 family sedan.