When I first moved to Colorado, cyclists terrified me. Moving from bike-unfriendly Tennessee to bike-prolific Fort Collins meant retraining myself to look for bikers as well as cars before turning or merging to my right. Those pesky bike lanes are everywhere!
Once I became a regular biker myself, the fear flip-flopped: I always worried that the drivers wouldn't see me. Now, Volvo has announced an upgrade to its pedestrian detection system that means the cars themselves will be on the lookout for cyclists even if the driver isn't.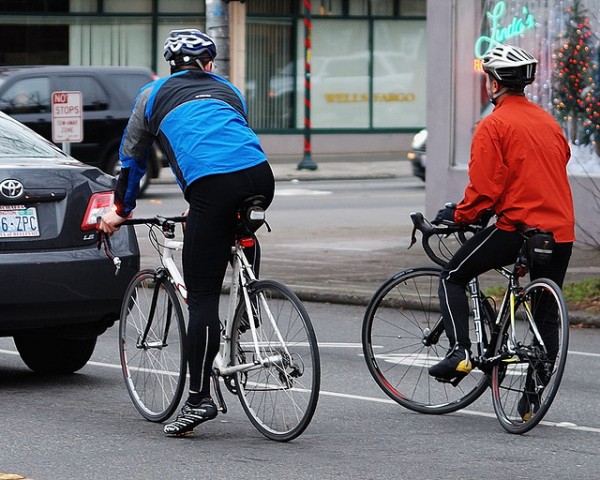 The technology, revealed at the 2013 Geneva Motor Show, is a world's first in automotive safety. Building on a pedestrian technology that caused a car to stop if it detected a pedestrian in its pathway, Volvo's new functionality causes the car to auto-brake if it suddenly detects a cyclist.
"The revamped system detects how close objects are with a grille-mounted radar and then uses a high-def camera within an auto's rear-view mirror to discern whether it's barreling down on a pedestrian or a biker," reports Engadget. If a cyclist heading in the same direction as the car suddenly swerves out in front of the car as it approaches from behind and a collision is imminent, there is an instant warning and full braking power is applied.
According to accident data, about 50 percent of all cyclists killed in European traffic have collided with a car. There were 630 fatalities and 51,000 injuries from bike-motor vehicle traffic crashes in the U.S. in 2009, according to the National Highway Traffic Safety Administration. These are statistics Volvo hopes to reduce.
"Our solutions for avoiding collisions with unprotected road users are unique in the industry. By covering more and more objects and situations, we reinforce our world-leading position within automotive safety. We keep moving towards our long-term vision to design cars that do not crash," said Doug Speck, Senior Vice President Marketing, Sales and Customer Service at Volvo Car Group.
According to the company, the Pedestrian and Cyclist Detection package will in mid-May as a feature of the new Volvo V40, S60, V60, XC60, V70, XC70 and S80.