Greenfield, Mass., is now home to a green landmark: the nation's first net zero bus station. That's right, the John W. Olver Transit Center generates all of its own power on site, using solar power.
Like so many smart net zero projects worldwide, this transit center — designed by Charles Rose Architects of Somerville — focuses first on reducing energy needs to the absolute minimum. Inhabitat reports that the firm worked closely with mechanical and electrical engineers during the design phase of the project to incorporate a number of features that proved key in achieving the building's lean, green profile. These include a combination of ultra efficient lighting and occupancy sensors and geothermal heating and cooling.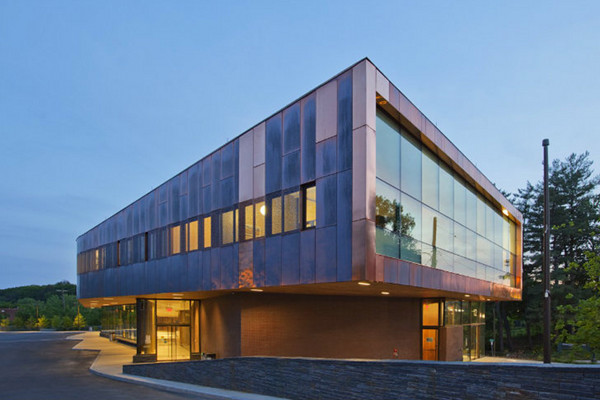 Ground-sourced, this geothermal system consists of a total of 22 wells that utilize the steady, insulated temperature of the earth to preheat indoor air to around 5o degrees. A 750 MBH pellet stove takes it from there, efficiently bringing the building's air up to hospitable indoor temps.
This 24,000-square-foot, two-story building is all about mass transit down below — future plans call for it to also function as a train depot — but also houses government offices on its top floor. The style of the building will likely jive well with that old fashioned function, as its brick, copper and locally sourced stone are in tune with Greenfield's history, as well as its existing architecture downtown. But the transit center also makes use of some pretty nifty modern tech visible from the street in the form of a screen whose pattern was designed by a  computer to minimize direct solar heat gain, while allowing natural daylight to shine through.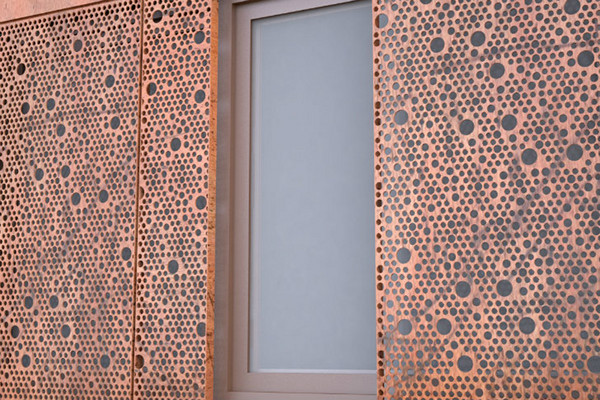 Windows were placed to optimize heat, shading and daylighting throughout the year, while a 98 kilowatt-capacity photovoltaic array (ground-mounted) handles the building's energy needs.