Could electric vehicles be modified to meet the needs of fire fighters? While it is hard to envision this in the big trucks we see rushing down streets, ladders attached and sirens blaring, there may well be functions electric cars could serve for those in this line of work. French automaker Renault is exploring those options by recently presenting Paris firefighters with a modified EV prototype "adopted to firefighters' needs."
The Renault Twizy prototype, said the car company, was co-developed by it and Parisian firefighters with the specific intent of "early interventions ahead of the arrival of more consequential lifesaving equipment." To this end, the rear seat of the vehicle has been replaced by a trunk used to store emergency equipment such as two fire extinguishers, two oxygen tanks, a fire suit, a helmet and a first-aid kit.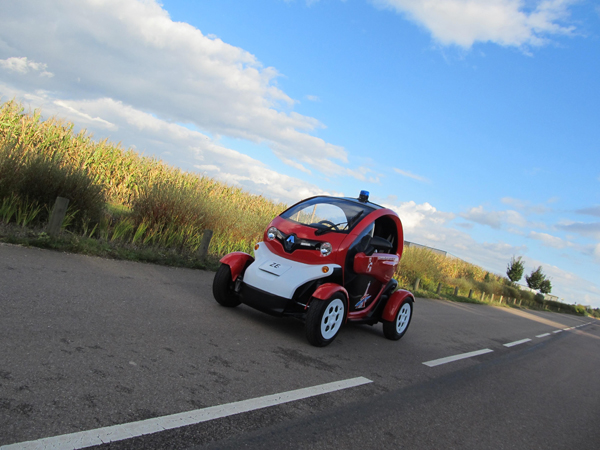 Trials of this electric vehicle will begin in November and proceed over eight months, during which firefighters will use the Twizy as a support car in France's largest city and its immediate suburbs. It will also be used when setting up temporary safety installations for major public events such as New Year's Eve.
The goal of the trial, according to the Paris firefighter brigade, is to review "the long-term possibility of setting up a fleet of light electric vehicles, for more efficiency and environmental respect." The vehicle is in part the result of a partnership signed earlier this year between Renault and the French national firefighter association around "collaborative efforts in fields including technical cooperation and donating vehicles to firefighters for vehicle-extrication training."
"This initial prototype is real-life proof of the research and development work carried out together with the emergency services," said Claire Petit Boulanger, tertiary safety officer at Renault, in a statement.
This is one of the first instances of green car technology being put towards fire fighting needs that we've seen. Police officers already make use of electric vehicles in a range of accessory functions in places like Oklahoma City and parts of the United Kingdom. While most are designed for more passive activities, at least one armed EV we know of was unveiled a year go around the concept of "humane crowd control."