Renault has announced plans to a new electric car sharing service in France. To be called Twizy Way by Renault, it is set to debut in a limited trial run later this month before what looks to be a full roll out this September.
Twizy Way by Renault will initially bring to French drivers in the urban community of Saint-Quentin-en-Yvelines 50 Twizy electric vehicles for use by some 200 initial testers. Those involved in the program, via a self service car sharing structure, will be able to take the closest Twizy to their home for an indefinite length of time before parking it at any car park located within the service area.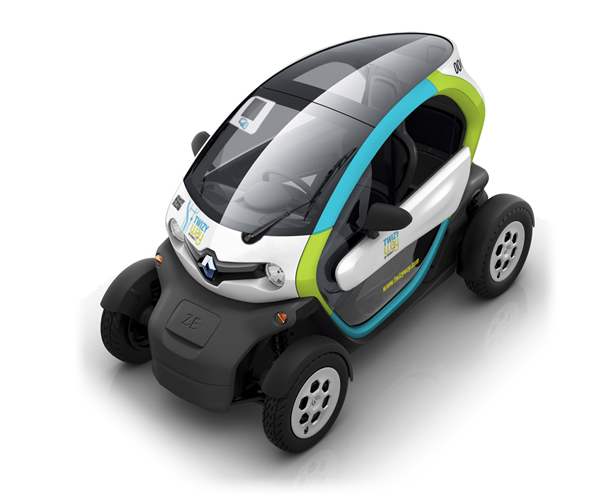 When another driver needs it, said Renault, they'll be able to access real-time parking information of the closest vehicle via a smartphone application that I assume dials into a GPS-assitsted database to provide location details. A QR code found on each electric car in the program that one can scan via their phones looks to be the way to access them.
The Renault Twizy is described as being a small urban/suburban electric car that we've covered before. It isn't an overly complex EV, intended to appeal to a mass audience with its simple road handling and minimum dimensions. It has basic safety features as well, including airbags and seat belts.
"With this practical test, Renault wishes to confirm that Twizy is particularly well-suited to car-sharing schemes and verify the logistics required to offer this self-service solution", said Thierry Viadieu, Director of Renault's New Mobility Programme, in a statement.
While Renault's electric car sharing program is interesting, it is hardly unique in France, or other parts of the world, for that matter. In Paris, for example, an ambitious program called Autolib aims to make available around 3,000 electric cars that can be picked up and dropped off at a number of rental kiosks around the city.
Also, in the United States, we've seen green car sharing offerings sprout up  in Philadelphia, San Francisco, Chicago and Hawaii. The concept has also expanded from cars to electric scooters as well.