All the results are now in for the international 2012 Formula Hybrid competition, a student design and engineering challenge to create the best high performance hybrid and electric vehicles.
The event held at the New Hampshire Motor Speedway in Loudon brings competing universities and colleges together.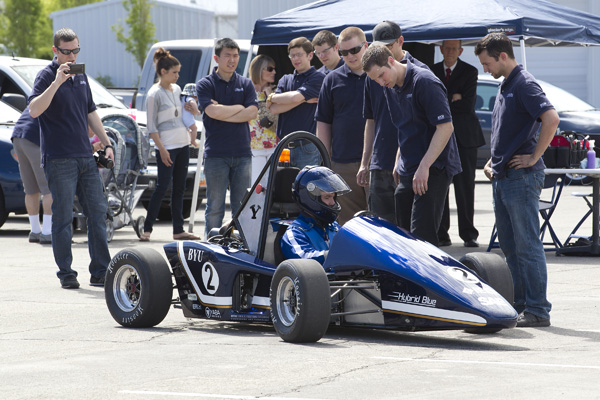 The teams must design, build and then race an open-wheel, single-seat, electric or plug-in hybrid-electric racecar.
According to the rules of the competition, the car must "conform to a formula which emphasizes drive train innovation and fuel efficiency in a high-performance application."
The race cars are assessed for a number of criteria which include presentation, design, acceleration, autocross and endurance.
This year's event took place from April 30 through to May 3.
In the hybrid section Utah's Brigham Young University (BYU) were awarded a joint first place alongside Quebec's Universite de Sherbrooke. Although Brigham Young overall score was slightly ahead of the Canadian university, the difference was so small (0.2 percent) that organizers decided that since uncertainties in some of the event scores exceeded that value, it was simply too close to call. Spain's Universitat Politecnica de Catalunya came in third, followed by the University of Texas Arlington,Dartmouth and McGill University.
For the electric-only section of the competition, which was a first for this year, the University of Kansas triumphed. Illinois Institute of Technology were awarded second place, followed by Drexel University, the University of Manitoba and the California Polytechnic State University.
Universite de Sherbrooke won the Ford Efficiency Award and the University of Texas-Arlington the GM Best-Engineered Hybrid Award. The University of Kansas, meanwhile, was singled out for two special prizes: the "Engineering the Future" and the "Excellence in Electric Vehicle Engineering" awards.
The Formula Hybrid student automotive design competition was founded by Thayer School of Engineering at Dartmouth in 2006. Thayer runs the event, which carries the endorsement of the Society of Automotive Engineers  (SAE) and the Institute of Electrical and Electronics Engineers.
The competition is based on Formula SAE, a student design competition run by the society in which competing teams build a prototype formula racing car.
Like Formula SAE events, the Formula Hybrid features an acceleration test, autocross and endurance events, as well as engineering and construction static events. The Formula Hybrid events however put a greater emphasis on drive train innovation and fuel efficiency.