A recent auto accident in Portland, Oregon involving a Toyota Prius hybrid is a reminder for first responders such as firefighters of extra steps they must take in order to address the needs of trapped drivers. With this particular story it looks luckily like there was no major unhappy ending, except for perhaps a small black dog named Zorro.
Portland Fire & Rescue said it responded to a two car accident, finding a Toyota Prius on its side with three passengers pinned inside. Keeping in mind special training the firefighters received around how to handle the electronics of green cars like hybrids and electric vehicles, they were able to successfully "disconnect and de-energize" the hybrid's electrical lines to prevent from being shocked while assisting those trapped within.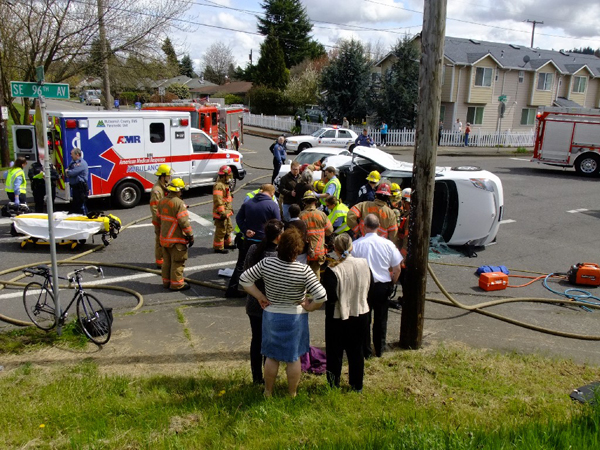 Making use of specialized extrication equipment carried on ladder trucks, the Portland first responders were able to successful remove the individuals from within the very damaged Prius. Several passengers between the two vehicles involved in the accident ended up being sent to a local hospital for treatment of their injuries.
"As hybrids become more prevalent, we are progressively seeing more of them involved in traffic accidents," said Portland Fire & Rescue Captain Dave Davies in a statement. "We must take necessary precautions as first responders so we don't injure ourselves, or further injure occupants, when rescuing victims from vehicles with new hybrid technology."
The type of precautions Davies was referring to are something first responders find themselves needing to learn more of as the technology inside vehicles becomes more advanced. Chevrolet, OnStar, the International Association of Fire Fighters (IAFF), International Association of Fire Chiefs (IAFC) and theNational Emergency Number Association (NENA) back in 2010 looked to address this growing need directly, offering up what at the time was the first automotive manufacturer-sponsored training program for first-responders nationwide focused on electric vehicle technology.
As for Zorro the dog, he escaped from the Prius and was least seen heading eastbound. He is likely still at large.