NRG Energy is settling a decade-old claim against it by California, and it looks like electric vehicle (EV) drivers in the Golden State will emerge as the big winners in the deal.
NRG said it reached a $120 million settlement with the California Public Utilities Commission that calls for the company to pour $100 million into building a fee-based network of at least 200 public charging stations in the San Francisco Bay area, the San Joaquin Valley, the Los Angeles basin and San Diego County. The stations will be quick-charging units that can add 50 miles of range to an electric car in less than 15 minutes.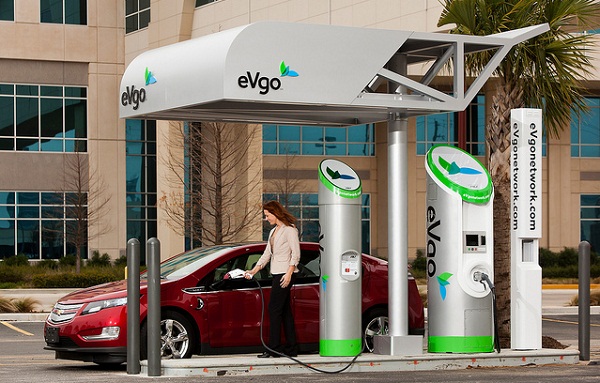 The agreement is intended to settle a claim, dating back to the state's energy crisis in 2001, that Dynegy Energy overcharged the state for power. NRG acquired Dynegy's California assets in 2006, putting it on the hook for the state's claim. In addition to building the EV charging network, the company agreed to pay out $20 million in cash to the state.
"With this agreement, the people of Californiawill gain a charging infrastructure ready to support their current and future fleet of electric vehicles," said David Crane, NRG's chief executive officer. "And we will be helping the state meet its clean car goals as embodied by its Zero Emission Vehicle (ZEV) mandate."
Under the agreement, NRG will also retrofit 10,000 parking spaces in various regions with the necessary wiring, but not the units themselves, to charge electric vehicles. These spaces will be at multifamily buildings, large work sites and civic sites such as universities and hospitals. Plus, NRG will provide training for what the company says will be hundreds of  jobs necessary for the installation and maintenance of the stations.
NRG is a big player in large solar projects, but the company has been placing bets on the EV-charging front as well, backing the eVgo network in Texas as well as a vehicle-to-grid power project based on technology developed at the University of Delaware.