Driving a Chevy Volt in California now not only offers potential savings on your gasoline bill—it might also help shave a considerable amount of time off your commute. That's because starting this month, drivers of a low-emission model of the 2012 Chevrolet Volt are allowed to go solo in the state's carpool lanes.
Tired of waiting for the federal government to take decisive action on vehicle fuel economy standards, California has forged its own path, instituting strict standards for car makers who want to market vehicles in the state. As a result, drivers in the Golden State often have first dibs at low-emissions vehicles and time-saving benefits, like driving solo in the high occupancy vehicle (HOV) lane, which typically requires a driver plus one or two passengers.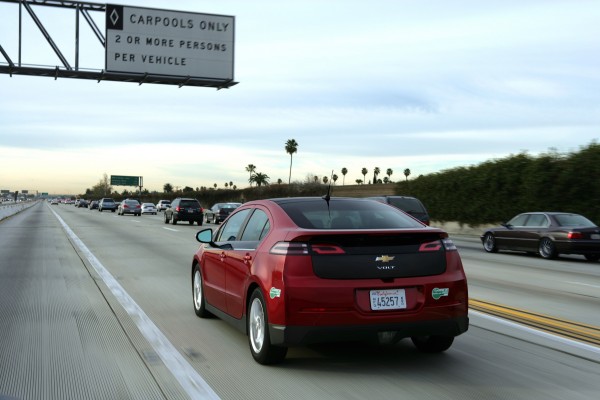 General Motors reports that Volts with the "Low Emissions Package," which is actually standard for California, began shipping from its Detroit-Hamtramck plant this week and should begin arriving at the more than 140 participating Chevrolet dealerships in California before the end of the month. Additionally, the new package makes the 2012 Volt eligible for owners and lessees to receive up to $1,500 in state rebates through the Clean Vehicle Rebate Project. This incentive is in addition to a federal tax credit of up to $7,500.
In order to qualify for the special highway privileges (and avoid unwelcome attention from the highway patrol) drivers will be required to affix a special sticker to the bumper. The state's Department of Motor Vehicles is making 40,000 "Clean Air Vehicle" stickers available for registered vehicles that meet the state's emissions standards. Applications can be downloaded from the DMV's website.
California has more than 1,400 miles of HOV lanes, and commuters who use carpool lanes in Southern California save an estimated average 36 minutes a day, or about a third of their total driving time.