Little known fact: for 4 months during the summer of 2010, I traveled around the country, living in an RV. Better known fact: the nomadic lifestyle, while incredibly exciting, is not friendly to the pocketbook. Our RV got about 10 miles to the gallon, on a good day, and it was about 15 feet shorter than most of the rolling houses we encountered on the road.
Reconciling this cost and impact on the environment with my love of the open road wasn't easy. Had time and money been no object, it would have been nice to retrofit Harvey the RV with some solar panels and perhaps biodiesel or veggie oil capabilities. But most people probably can't take the time to make those upgrades themselves. Which is why I think this Sustainability At Rest RV concept by Robrady Design has some real potential.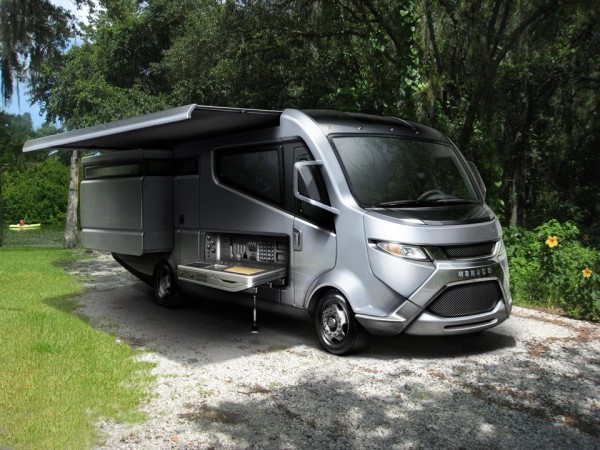 Not only is this RV concept much greener, as pointed out in this Design Buzz review, it's also better looking and a lot easier to maneuver. Using a multi-disciplinary approach, Robrady used its experience in a variety of markets to upgrade more than just the RV's fuel efficiency.
The design features solar panels on the awning and roof, incorporates hydrogen fuel cells as an alternate power source, an electric vehicle charging station for Segways and Vectrix motorcycles and an AquaVentus device, which literally pulls fresh, potable water out of thin air by use of condensation capture technology.
As a former "full-timer," I can tell you that an RV offering these types of renewable energy-generating technologies would be a blessing on the open road. One of the biggest expenses for explorers on a budget is the high cost of established RV parks. Unfortunately, these are some of the only places to find electrical, sewer and television hookups, without which life in an RV is far less comfortable. If solar panels and other alternative power sources were to be incorporated into RV designs, exploring areas further off the beaten path would be safer and more convenient.