The rate of new solar installations slowed in Germany in 2011, but the country's massive investment in expanding capacity over the past several years is paying huge dividends. The Federal Solar Industry Association (BSW-Solar), a trade group, announced Germany produced 18 billion kilowatt-hours (kWh) of solar energy in 2011 – 60 percent more than in 2010 and enough to power 5.1 million homes. Germany was the global leader in solar with 17,200 MW of installed photovoltaics capacity at the end of 2010.
Slow and steady isn't exactly Germany's strategy on the clean energy race, with goals set for 35 percent renewable energy by 2020 and 80 percent by 2050, and a commitment to shut down all nuclear power plants by 2022. Comparatively, in the U.S., the Obama administration's energy plan sets goals of 10 percent renewable energy by 2012 and 25 percent by 2025, and of course the administration often runs into opposition in trying to pursue even those relatively modest goals.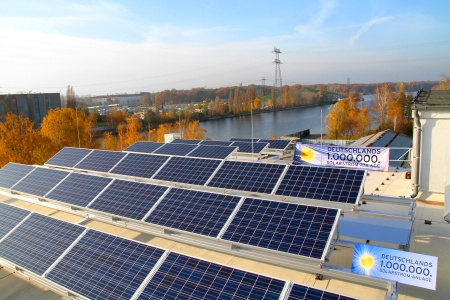 With increasing prices on oil and gas and decreasing cost on solar technology, solar energy is a clear choice for investment, according to the BSW. Prices for turn-key solar power plants have already halved since 2007, making government subsidies less and less necessary to encourage investment. Feed-in tariffs will also continue to drop as solar technology becomes less costly, bringing the price paid to producers of solar PV closer and closer to that of fossil-fuel energy.
Even with less government subsidies and falling feed-in tariffs, the BSW predicts that with reliable conditions, the positive trend in investment makes solar power likely to rise from being the source of 3 percent of the country's power now to 10 percent by 2020.