Way back in 2009 (how the Internet years fly) we introduced you to Trikke Tech and its unique take on the electric vehicle known as the three-wheeled Pon-e. The company fell off our radar until CES 2012, where it said it would be showing at the large consumer electronics event the Pon-e Lite, described as a leaner, more affordable version of its EV.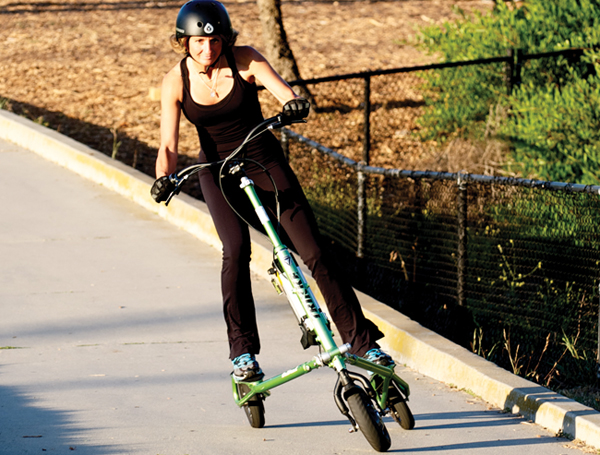 The Trike Tribred Pon-e Lite, priced at an eye-opening $1,300 or so, is a 36 volt, 180 watt, front wheel powered vehicle geared towards an interesting market segment – fitness seekers. You might ask – how does an EV help one achieve fitness goals? The Pon-e Lite, as designed, is powered primarily by the movement of one's body in a skiing like motion. This movement moves the vehicle forward entirely under human power.
The electric assist option, according to Trikke Tech, lets riders "dramatically increase their variety of locations and riding styles, including downhill simulation on flat roads by simply resisting the pull of the motor with sharp, aggressive ski turns." It can also just plain help you get around as well when you are exhausted from your workout on this E-ticket ride.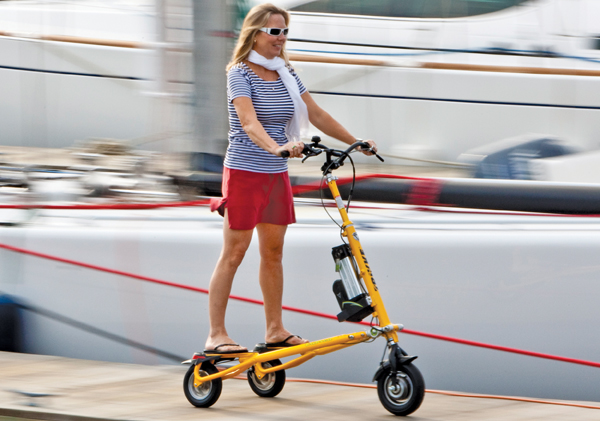 The Pon-e Lite has a foldable, lightweight frame that sports fully adjustable handlebars and dual disc brakes with a parking lock. The EV, which weighs around 37 pounds with the swappable lithium-ion battery, has a top speed of just 13 MPH when using the motor only. Range is also just 10 miles in EV mode, which is good to know if you are 20 miles from home, exhausted and the vehicle suddenly dies under you.
This unit, available in various colors, can be purchased immediately.