When designer Facundo Elias was tasked with designing a modern day go-kart racer, he had two thoughts: It had to be a hybrid and it had to be fun. With a resume that includes forward-thinking designs for quad electric bikes, Elias had some experience with alternative fuel vehicles, and judging by the looks of the kart, he's got a bit of experience in the fun category as well.
Bearing a striking resemblance to a certain video game character's favorite mode of transportation, the kart was built as Elias' final thesis for his degree in industrial design from Buenos Aires University. While we don't know exactly how fast Mario's video game kart is able to travel, we do know that Elias has crafted one quick little buggy.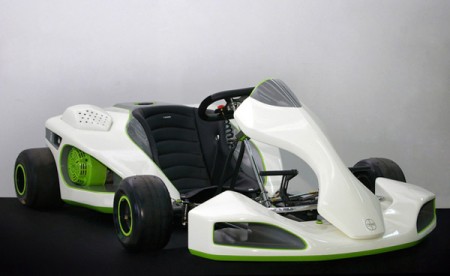 The hybrid kart is propelled by a 160-cc, four-stroke engine that assisted by a 49-volt electric motor powered by four batteries in parallel. Working together the kart can zoom around for about four hours before it needs a charge.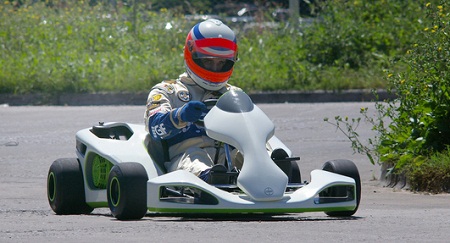 Since you never know when you will be bouncing on top of mushrooms, racing across the tree trunks or evading banana peels, the Mario-inspired kart is constructed of alloy steel and the fairings were designed to hide all moving and functional parts, protecting the user from decidedly non-fun things such as blistering hot metal, scalding fluids and skin-shredding whirling gizmos. And because there is no "reset" button in real life, the fairing envelops the cockpit, putting the user in a central position to shield from side collisions. For comfort, the chair is made of lightweight fiberglass and foam upholstered in recycled polypropylene and lined in recycled leather. When it's time to let the grownups drive, the accelerator and brake pedals can be adjusted up to 20 cm.