The first ever American Nissan Leaf was delivered to a customer in Petaluma, Calif., on December 11, 2010. Then and in the ensuing months, Nissan limited the sale of electric vehicle to states taking part the EV Project, the U.S. Department of Energy-backed charging-infrastructure effort. Now, almost a year after that first delivery – and after close to 9,000 Leafs have hit the American road – Nissan is moving to expand the availability of the all-electric Leaf into new U.S. markets.
The company has reopened reservations and has begun taking orders from the general public for the 2012 Leaf in Delaware, Indiana, Louisiana, Nevada, Ohio, Pennsylvania and Rhode Island. Nissan says deliveries of these orders will begin in spring 2012. The additions of the new markets bring the Leaf's total U.S. availability to 30. Nissan says they expect to have full nationwide ordering by March of 2012.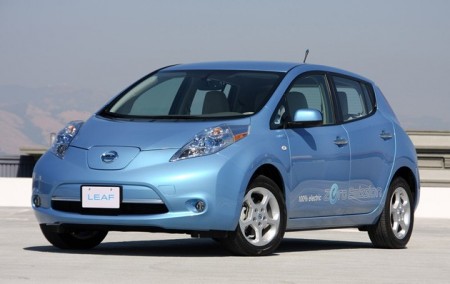 If Nissan manages to hit this target, its timing will be very good, indeed, as the Leaf factory in Smyrna, Tenn., is scheduled to begin production in 2012. Once online, that manufacturing plant is expected to produce up to 150,000 vehicles and 200,000 battery packs annually. The plant, which is expected to create up to 1,300 jobs, is being retooled with a $1.4 billion loan granted by the U.S. Department of Energy.
Customers taking delivery of the 2012 model Leaf will see a few upgrades over the 2011 model. Now standard will be DC fast charge capability that will allow the car to be charged at 480 volts. That charge option reduces the time it takes to charge the battery to 80 percent capacity to under 30 minutes from a fully depleted state.  Also standard in the new Leaf are some cold-weather safeguards, including a battery warmer, heated steering wheel and heated front and rear seats. These upgrades come with a price, however. The base model Leaf SV jumps to $35,200 (up from $32,780) and the tricked-out SL goes to $37,250 (up from $33,720). Both these prices are quoted before any state or federal tax credits.