When automobile manufacturers elect to tip their hands about the future priorities, they often use auto shows as the stage. At the upcoming Tokyo Motor Show, Suzuki's booth has a decidedly green bent. Of the nine models Suzuki has chosen to show off, one is a hybrid, one is an electric scooter and one is a fuel cell scooter. The other vehicles include three motorcycles, a concept car and a low weight, low-emission mini car. There is a grand total of one "conventional" internal combustion automobile featured.
On the scootering front Suzuki is showcasing the e-Let's electric scooter. The e-Let's features a high-performance in-wheel motor with regenerative braking capability; a lithium-ion battery; and a charging system within a compact, lightweight chassis. The battery is charged from a 100 volt household outlet. A single charge gives a range of about 30 km. Suzuki has since been conducting on-road trials by itself and as part of an initiative led by its home city, Hamamatsu. Suzuki will use the resulting data to verify the reliability of the e-Let's and move further toward production.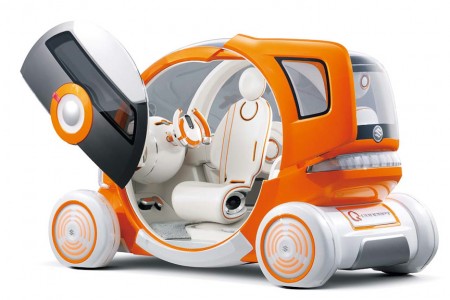 Suzuki's other scoot, the Burgman Fuel-Cell Scooter, debuted at the 2009 Tokyo Motor Show. It has since been subjected to on-road trials in the United Kingdom and Japan and has become the first fuel-cell vehicle of any kind to earn Whole Vehicle Type Approval in the European Union. Suzuki says its appearance at Tokyo "will highlight its continuing evolution."
On the four-wheel front, Suzuki has chosen to highlight two of its Swift models. The Swift EV Hybrid, still in the concept stage, is a sporty, compact electric vehicle with an engine-driven generator which, the company says, can travel up to 30 km on electricity alone. The Swift Sport is a conventional IC car which Suzuki hopes will the "performance flagship" of the Swift series.
Suzuki is also putting the bright lights on two other concepts. The Q-concept is a two seat mini car which Suzuki says is the perfect blend of motorcycle and mini-car. The Regina is a more conventional concept, which touts excellent fuel efficiency and low emissions thanks to lightness and aerodynamics.