Ian Mann has a vision of the future and he's got just the car to deal with it. Mann, a London-based designer has created an inexpensive, easy-to-build concept car to deal with what he sees as an extensively overpopulated planet by the 2050. Mann's concept, dubbed the 600, is a modular, six-seat all electric vehicle build using lightweight, low-cost materials making it extremely efficient, easy to build and quite cost effective.
Mann's design begins with modular construction, which means the car essentially snaps together. This makes manufacturing quick and easy as well as making repairs less of a hassle. Plans for the 600 also include two ultra-efficient in-wheel motors that, combined with the car's 600 kg of lithium-ion batteries, will offer 80 kilowatts of power and a five hours of drive time.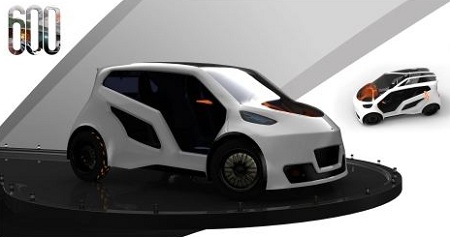 The 600 concept design also utilizes ultra-thin and extremely low-cost photovoltaic cells on the roof of the car. Mann envisions these cells printed on a flexible polymer that allows them to follow the 600's contours. The cells will charge the car throughout the day, including, over course, when the car is not in use. The energy generated by the PV cells can be used to power the car's ventilation system or to top up the batteries.
Inside, the 600 offers seating for up to six adults. Each seat can move independently of the others to create a functional, flexible interior. The driver's seat swivels up to 40 degrees while the 600's second row of seating can slide left and right. The back bench seats all fold flat for maximum versatility.
Help Carbonfund toward their goal of planting 1,000,000 trees. Subscribe to Green Earthling Deals by Friday, Nov. 25, 2011, and EarthTechling will donate $1 for every new subscriber. See contest rules for details. Sign up in the upper right-hand corner at EarthTechling.com or right here.