Start spreading the news: Smith Electric Vehicles is headed to New York City. The company that manufactures zero-emissions, all-electric commercial trucks has announced that it will add a manufacturing plant in the Big Apple. The new plant is expected to start production in 2012 and create 100 jobs.
Smith, with manufacturing operations in Kansas City, Mo., and outside Newcastle, England, is known for manufacturing the Newton, its all-electric medium duty vehicle. The truck has a range of up to  150 miles and an average annual operating cost that is one-third to one-half that of conventional diesel trucks with comparable gross vehicle weights. Frito Lay has used Smith's trucks for their deliveries and Coca-Cola has said that it will also support the company by using its vehicles.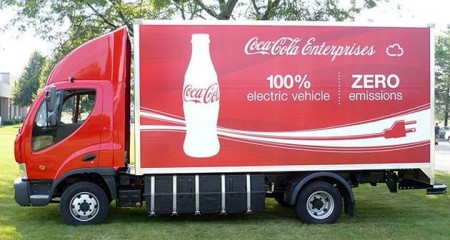 "Coca-Cola is proud to partner with Smith Electric Vehicles in making our delivery fleet more efficient," Steven Saltzgiver, director of fleet operations, Coca-Cola Refreshments said in a statement. "Smith's presence in New York City, coupled with the state's incentive program, will help us accelerate conversion in New York as we continue to build a more efficient and environmentallyfriendly Coke fleet.
New York officials are excited about the company too. They've provided about $11 million in city and state incentives to encourage the company to add the new manufacturing and service center. So where in the great urban area of New York will a vehicle assembly plant go? According to the New York Times, in the South Bronx.